Note: I read a dear friend's blog post on her personal take on "my happiness." This friend's name is Nilyn. She blogs at www.abovepreciousrubies.com. She mostly shares how her everyday life went, her motivational narratives and devotions, and a number of product reviews. From her writings, Nilyn may create an impression that she is one happy and contented individual. She speaks of wisdom and of joy. And she inspires me to look into my own happiness as well.
My struggle
This morning, I drove real slow toward my Big Bunso's school. Part of me dreaded seeing his name not on top. I can be that obsessive with grades. I have seen my son's eagerness to study and learn, and I know he will be disappointed should he fail himself.
My fear
Then I went inside. By the entrance gate was a bulletin board. The bulletin board bore the name of the top 5 honors students of each grade level. I scanned all the names of each section, very evident that I was putting off the class of my son.
Finally, I was ready then. I read the names. I checked on the average of each student. Then I found myself crying. A teacher approached me and said only the nicest words about my son. I cried even more.
I waited for my turn to have a word with my grade 5's adviser. Then as another parent left, I sat down next to the teacher's table. She handed to me my son's report card. My eyes were still wet with tears and I cried even more. I can be real emotional when it comes to my boys.
My guilt
Part of me was guilty of not being able to review with him last Mastery Exams and First Periodical Exams. I told him he needed to be independent. He should study on his own as mama is busy with his baby brother. I would even ask help on washing the dishes, setting the table, and even looking after our baby. I could be that hard to them.
My humbling experience
On my way home, I stopped by our chapel. The mass was about to end. I smiled even more when I saw my second son by the altar. He is an acolyte. He serves three times every Sunday mass. One at 6:00 am to 7:00 am, another at 8:30 am to 9:30 am and lastly at 6:00 pm to 7:00 pm. Oftentimes, he serves even without his family. With the many household chores and a baby to look after, our mornings can be real busy. We usually attend mass by 6:00pm.
I knelt down and said my prayers. I waited for my son and we went home together. The house was in chaos. The mother left for school and the baby was on the floor. The father was repairing some electrical wiring problems while the Big Bunso was clearing the table from our early breakfast. The firstborn was upstairs sweeping the floor.
My happiness
What am I not to be happy about? The house was a mess. Yes. But I have a husband who finds time to repair that electric wire problem in the kitchen. I have a Firstborn who initiates to clean the house even without the mother around. I have a baby who now starts to explore the floor and does not limit himself within the comforts of his high chair. I have a Second son who serves the Lord and is responsible for his duties as an acolyte. And finally, I have a Big Bunso who studies on his own and still tops his class. I know he is very proud of himself as he reached the top without his mama helping him with his assignments and tests.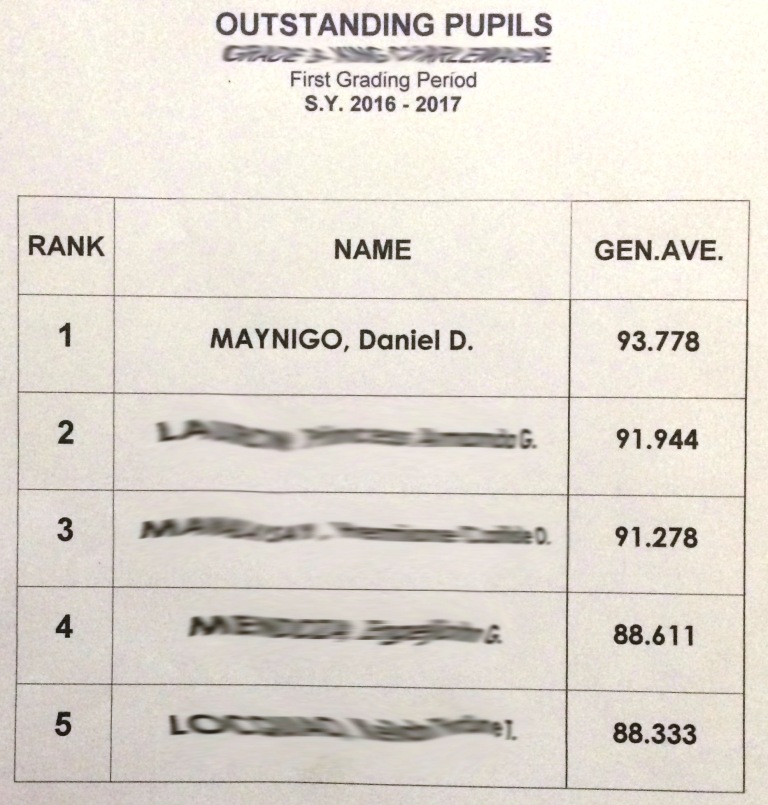 This is my life. My happiness. The reason for me to somehow smile, laugh often, and cry most of the time. I told you. I can be real emotional when it comes to my boys.
P.S.
Before I said goodbye to the teacher, I was told my son will be his school's representative for two interschool competitions. He will compete for the Spelling Quiz Bee slated on the last quarter of 2016 and Science Quiz Bee this coming October 2016. From last year's experience about 30 private grade schools within Quezon City will compete for the championship title.