"Come in very good mood and come hungry!"  says Mary Ann Tayag on her email to me as I arrange for a media appreciation cum culinary tour for a favorite client.  She encourages us to wear comfy clothes as we will dine in a silong.  She will prepare a ten-course meal for us.
Sounds too exciting!
Travel time from Manila to Angeles, Pampanga is two hours.   Bale Dutung is inside the Villa Gloria Subdivision in Angeles, Pampanga.  A private residence of popular chef  Claude Tayag and his lovely wife Mary Ann, Bale Dutung welcomes guests and visitors on special occasions or weekend to sample some of the best Filipino and Kapampangan dishes.
The place gives great emphasis to the charm of rustic living.  Almost everything is made of wood;  the setting is so laid back.  The vista, so soothing and serene, undoubtedly encourages visitors to relax and somehow leave all worries in a while.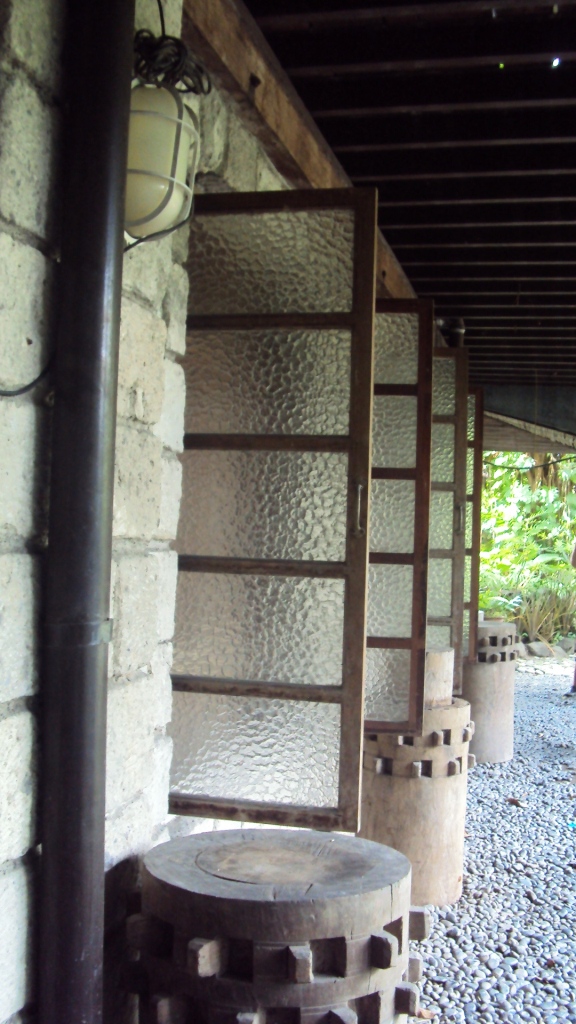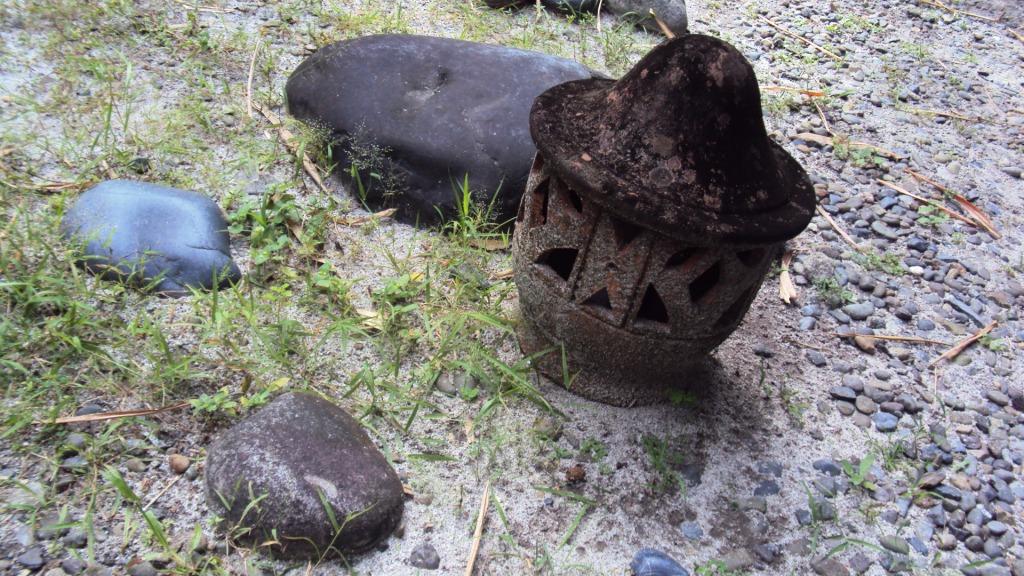 Lunch usually starts at 12noon.  Very gracious of Mary Ann to wait for latecomers – us.   Everything has been arranged, our dining table at the couple's  silong;  big enough to accommodate around 50 pax.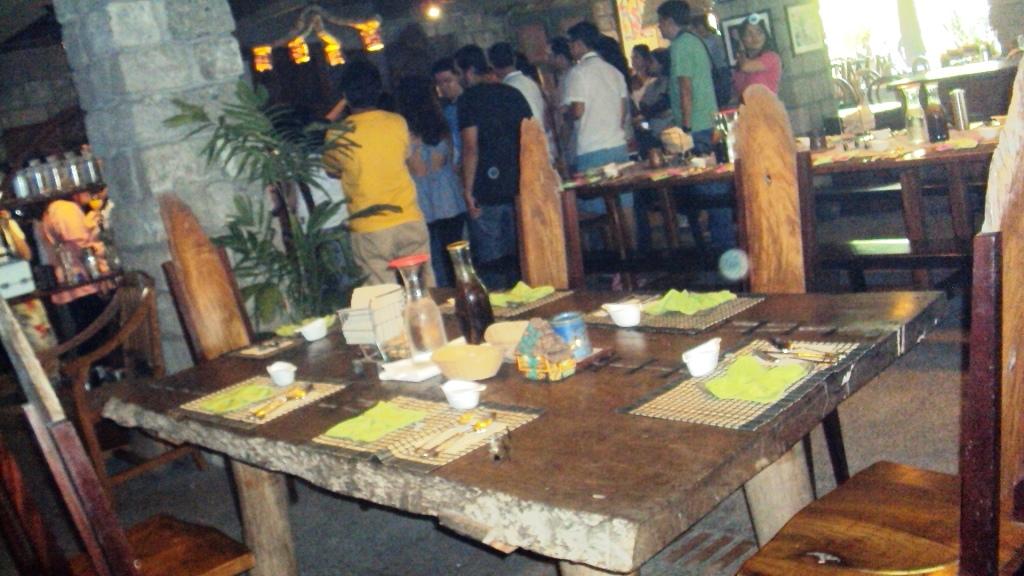 To welcome guests, Bale Dutung serves a glass of cold and refreshing dalandan juice with cubed muscovado for each.
Then Mary Ann, the lady of the house, warns us:  "we are about to experience a  degustation in 10 parts."  She requests guests to pace their eating as a full 10-course meal awaits them.  Serving portion though will be  smallish because of again, the number of courses.  Those who cannot resist having their seconds may ask for another serving.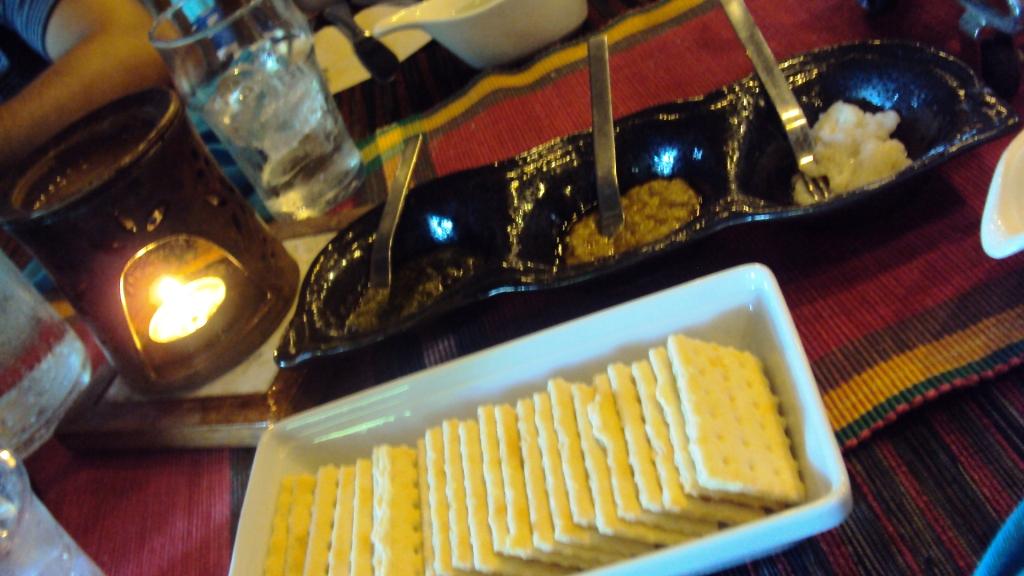 1)  Three different dips –  pesto, taba ng talangka and buro are perfect toppings to any cracker.  Mary Ann  advises guests to try the pesto first with the cracker then follow it with the taba ng talangka and lastly the buro.  After sampling all three, visitors may now experiment and try combine pesto with taba ng talangka or pesto with buro — their choice.  The buro I know is smelly and is truly odoriferous, but the buro Bale Dutung is serving emits no foul smell at all.  Mary Ann wittily remarks,  "it would turn off a lot of people if we serve them the authentic smelly buro."
2)  Ensaladang Pako served with fresh tomatoes, onion and quail egg is a perfect appetizer to start any meal.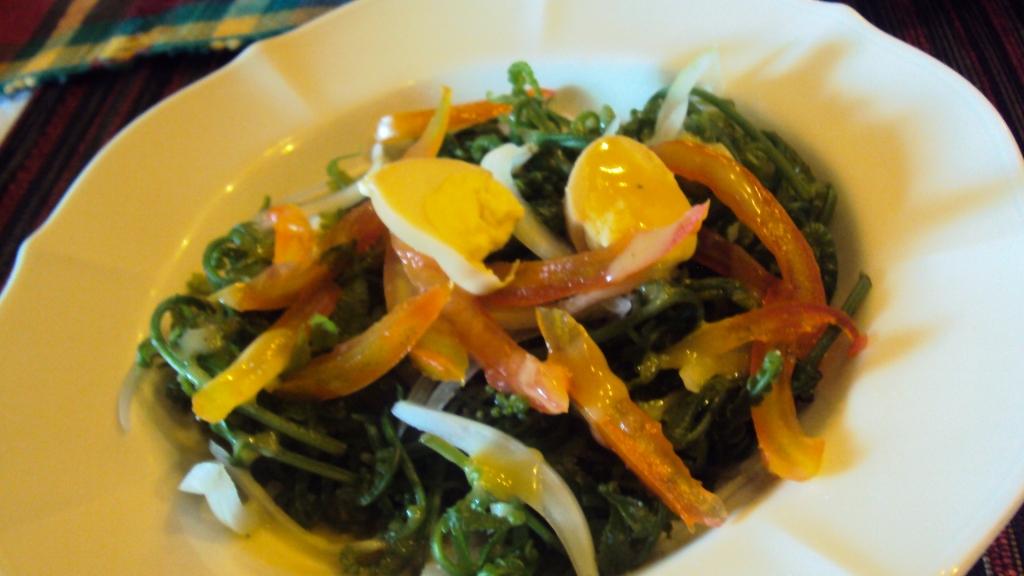 Mary Ann shares her pako experience story.   When Gibo Teodoro announced his bid for the presidency, his household served food good for more than a thousand pax.  Gibo's fave is pako thus his mother ordered pako at Mary Ann's.   There was a shortage of pako at the Tayag's  garden thus Gibo's mother imported pako somewhere at P300 per kilo.  The Tayag's price is only at about a hundred.  Too expensive for a fern which abundantly grows in different towns in the country.  The increase in price might be because food enthusiasts would often describe pako salad as something for the rich and famous.
The ensaladang pako is somehow crispy and slimy yet its fresh taste is perfectly complemented with the sweet and sour taste of the vinaigrette.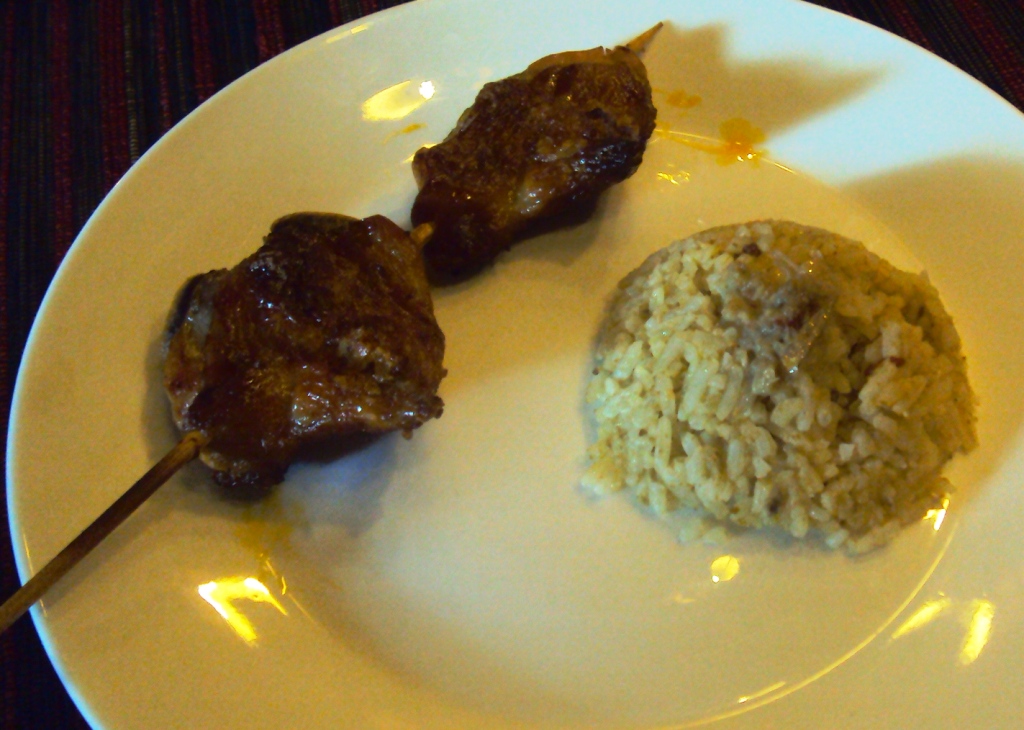 3)  Bale Dutung's  version of chicken inasal with talangka rice.  Mary Ann requests guests to first try the food served as it is, without any condiments, because it is how the chef wanted us to taste the food anyway.  These are chicken butts and they are said to be the best part of any bird.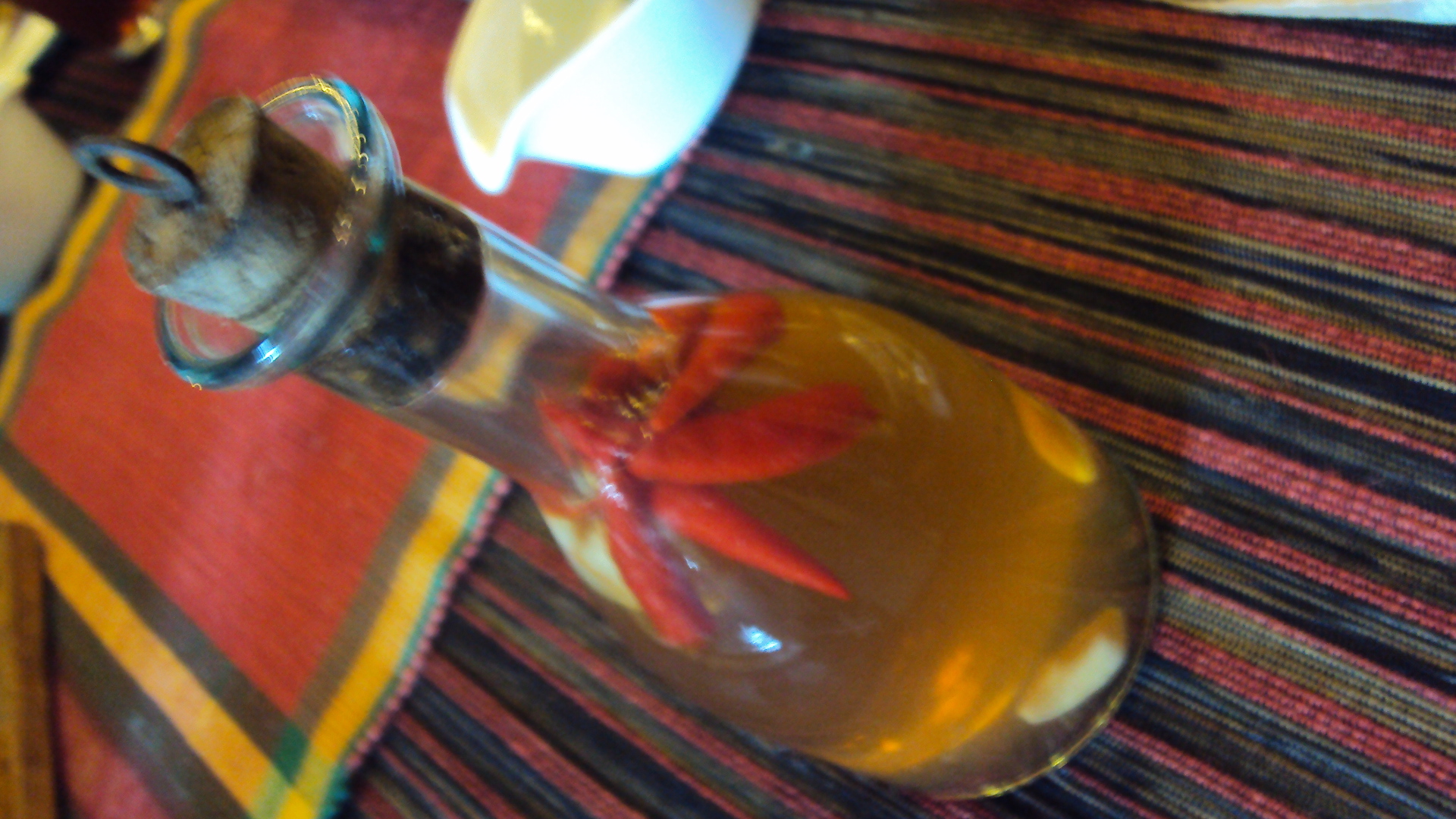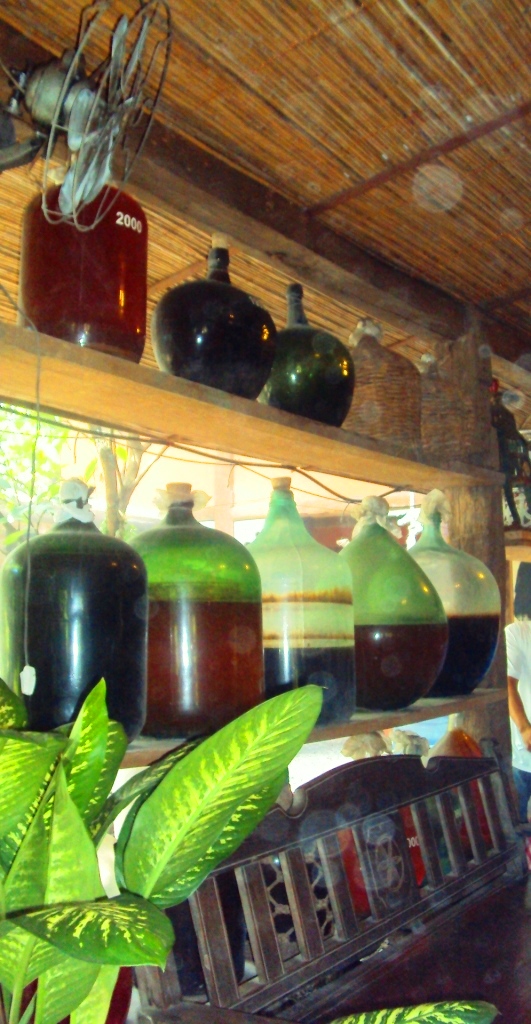 A 1998 vinegar served together with the chicken inasal.   The Tayags ferment their own vinegar — naturally — in these jars.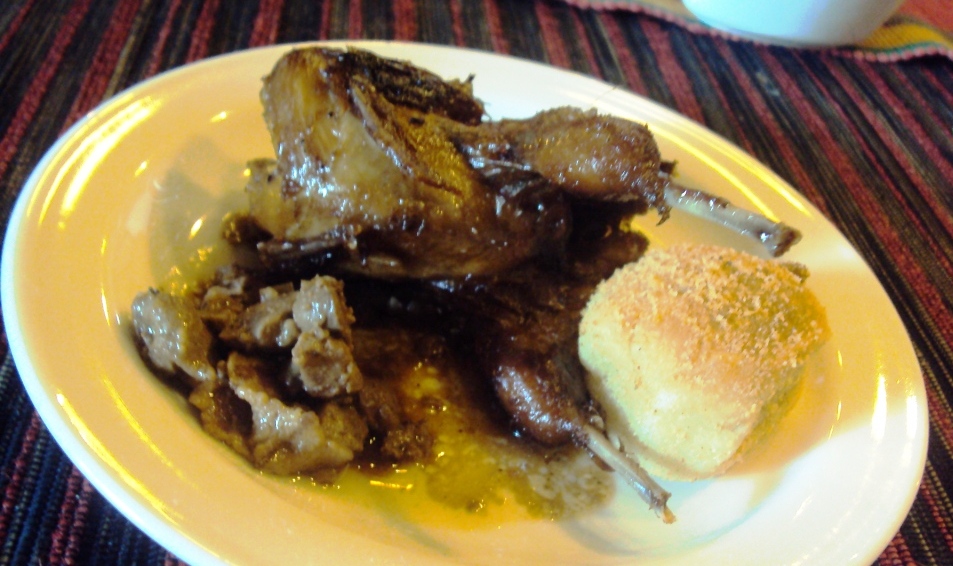 4)  Adobong pugo with chicken liver.  Mary  Ann advises guests to try the chicken with the bread then follow it with the chicken liver.  I like the chicken and the liver but not the small pandesal.
5)  Talangka sushi. I do not eat Japanese food.  I try this simple roll though of rice with crab fat on top.    The taste — neat.
6)   Fried hito  wrapped in a mustard leaf.  I remember Mary Ann telling guests that the hito  inside the mustard leaf will neutralize the saltiness of the fermented shrimp sauce and buro.
Lucky us we share the date with somebody who is celebrating his birthday that day. Claude's famous pan de bagnet — on the house!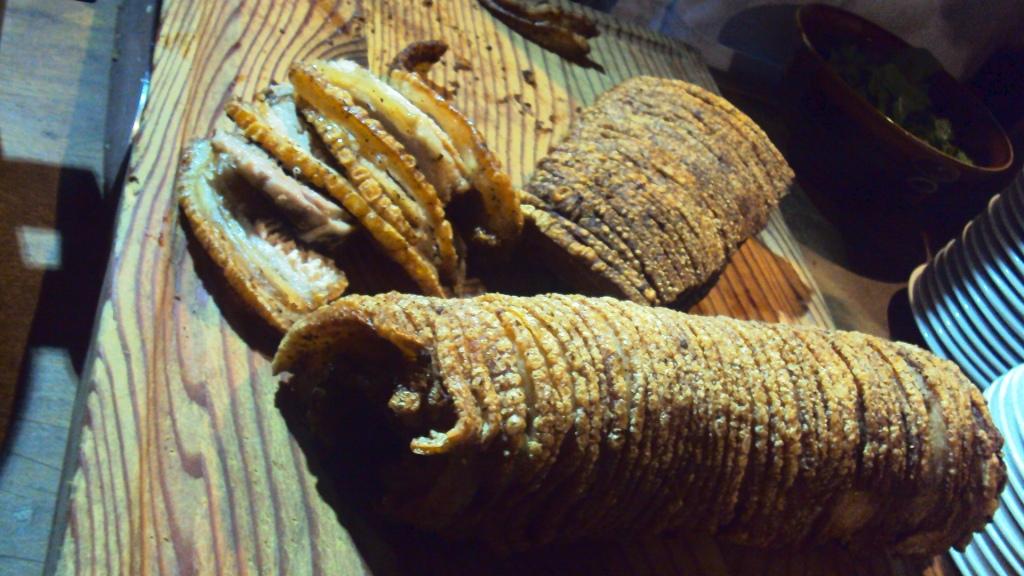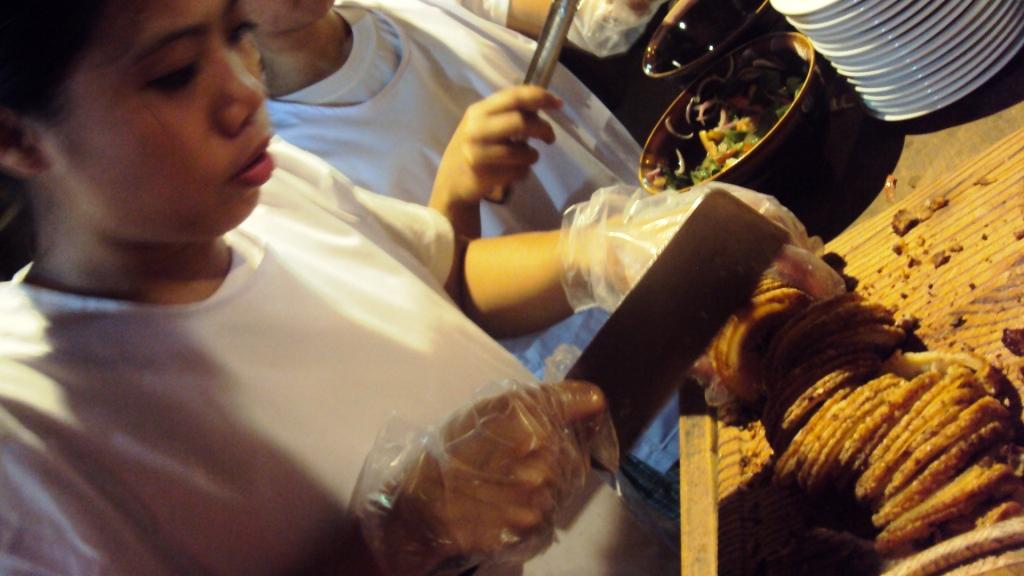 A helper patiently chops the bagnet,  serves it in a bun then stuffs it with greens and veggies.  She pours  a slightly salty dressing.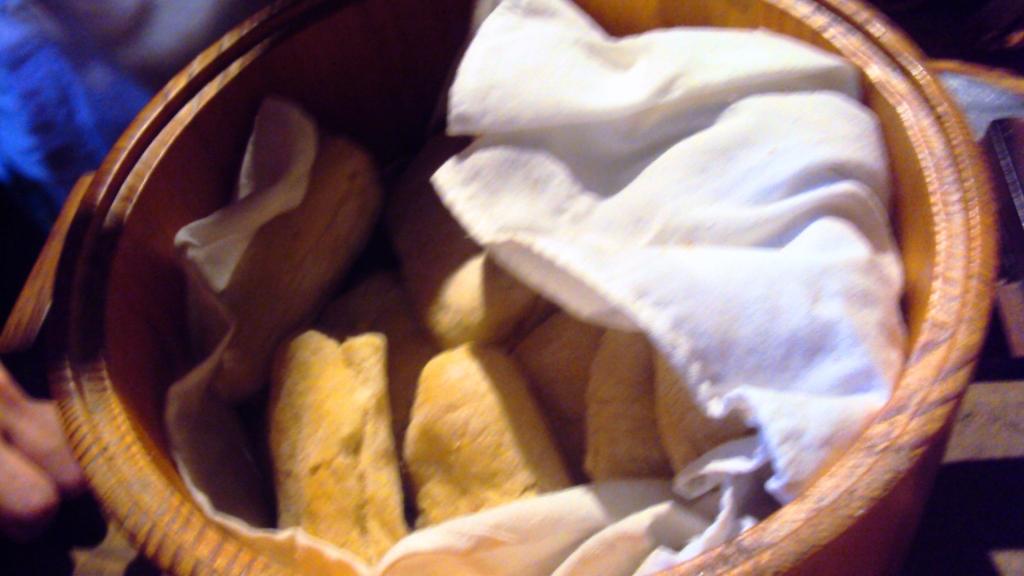 The helper reveals that they get the bun from French Baker.  I thought they bake them themselves.  The lady helper might have realized she disclosed something that should be kept a secret thus she keeps mum on my other inquiries.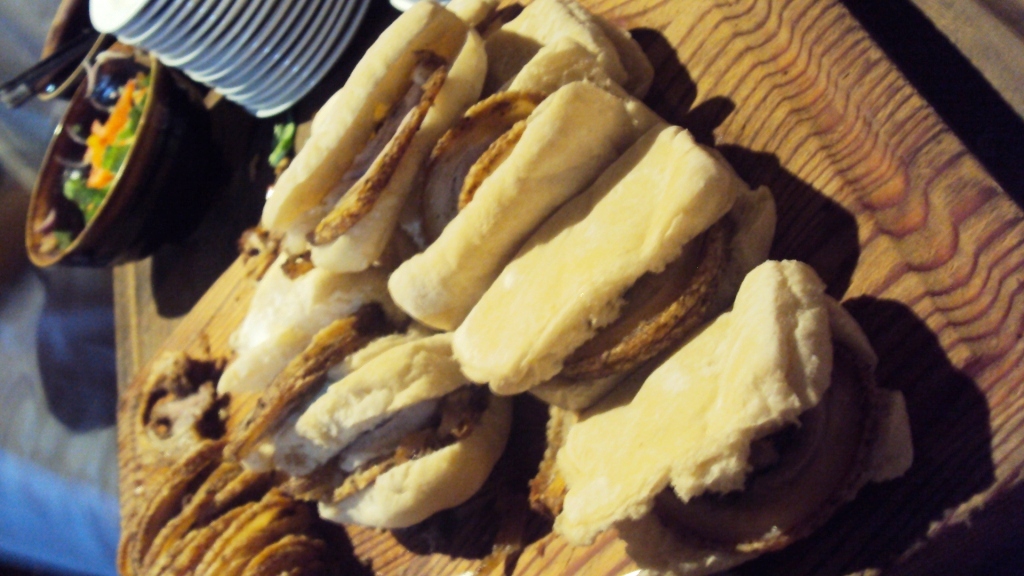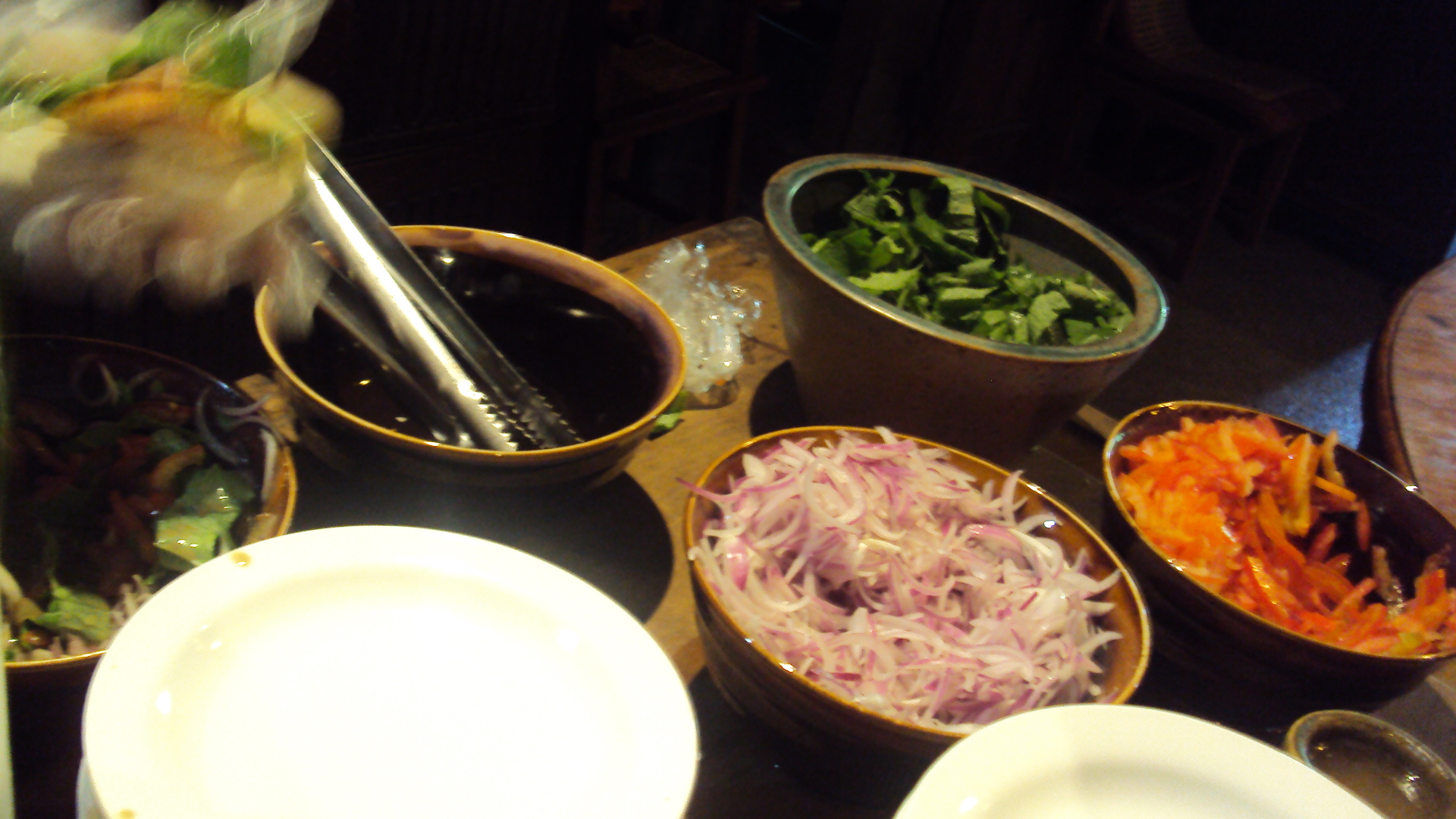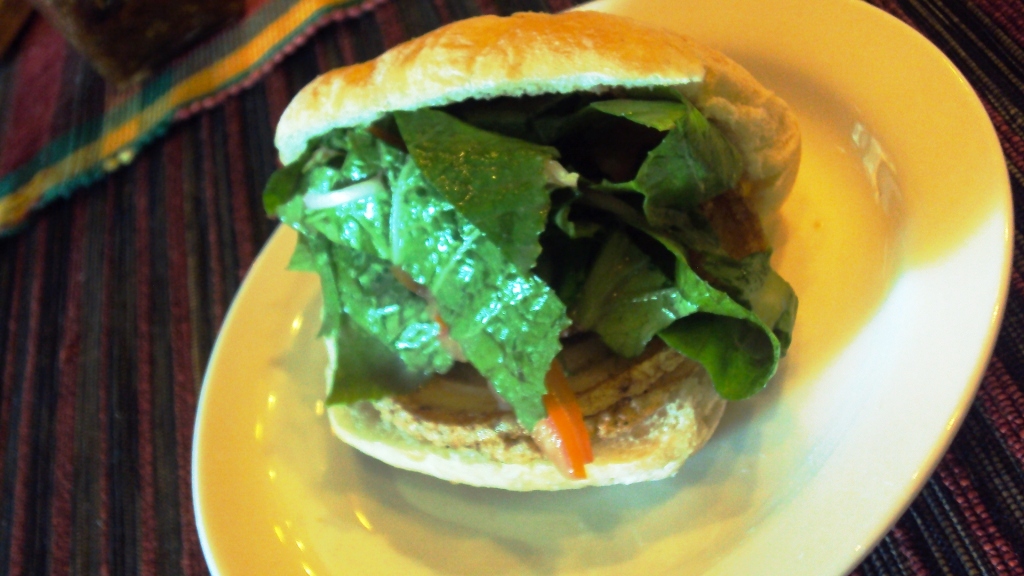 7)  The bagnet is extremely juicy and its rind is very crunchy.  Others ask for a second serving while I prefer to visit the other table — the do it yourself lechon taco.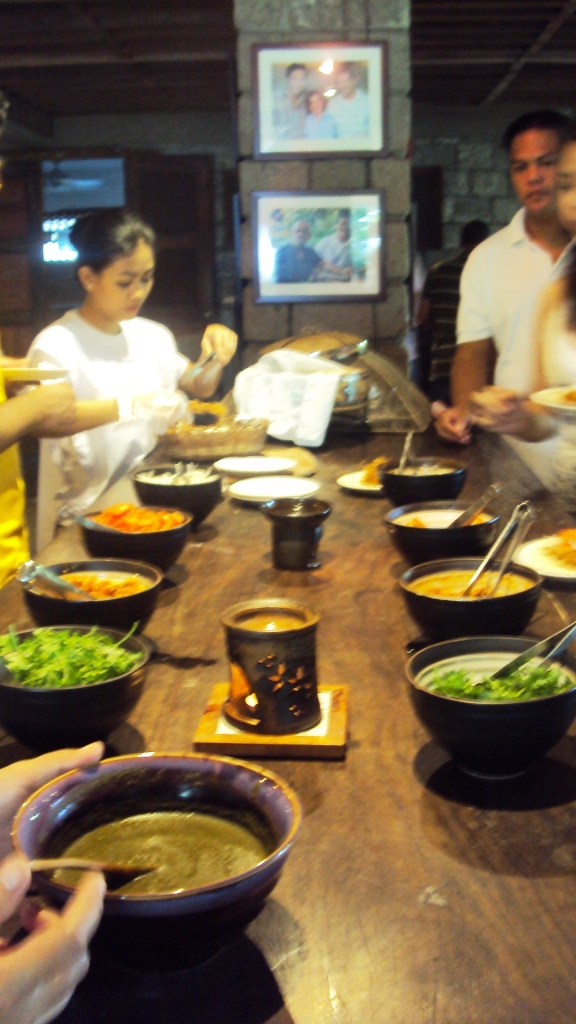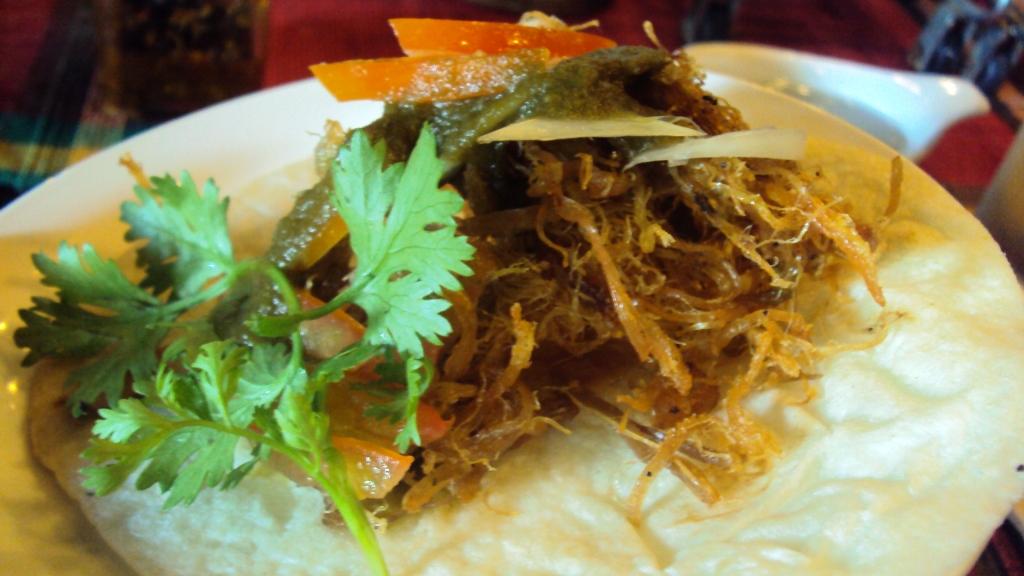 8)  Lechon tortilla.  Lechon meat flakes topped with home-made kimchi, slices of tomatoes,  onions and kinchay then wrapped in a tortilla.  Not able to enjoy this that much, perhaps because of the kimchi.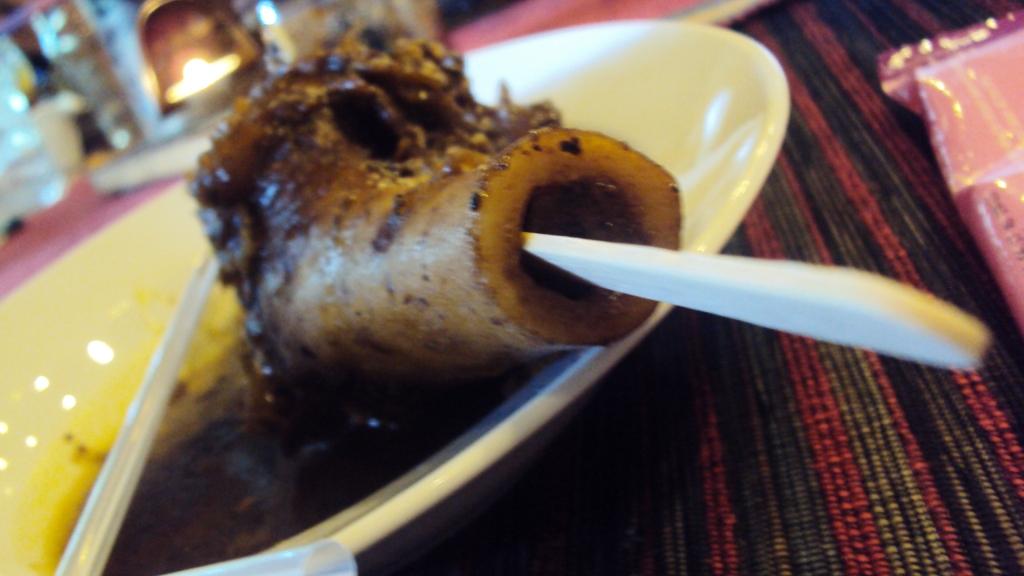 9)  Bone collector or the delicious shabu (bone marrow in adobo sauce)
The effect of eating this meal may be likened to the after effect of consuming shabu.  Mary Ann instructs us to take a sip of the adobo sauce using the straw and scoop out the meat from the bone marrow using the popsicle stick.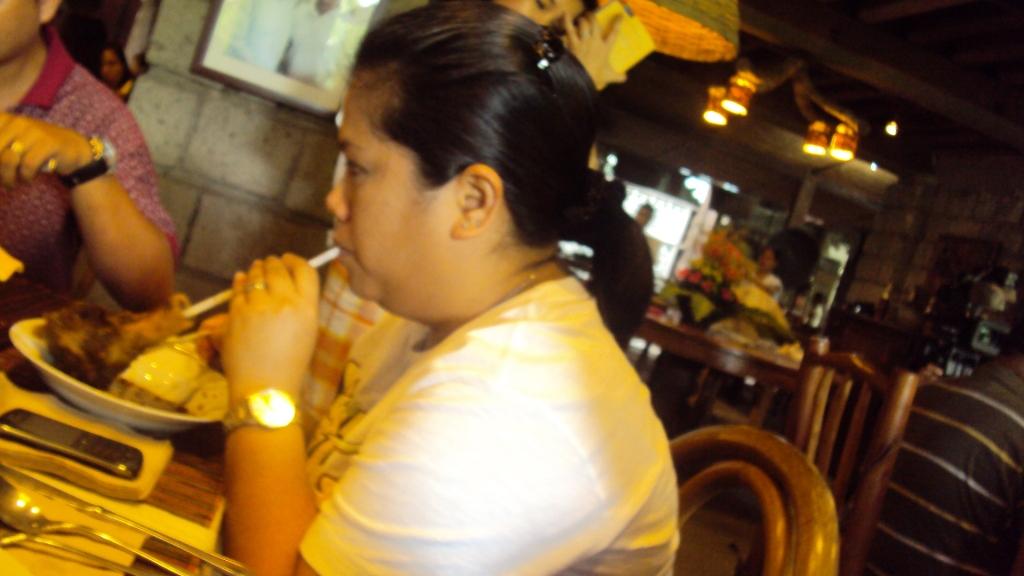 This is my friend Marie trying to sip the sauce  from the inside of the bone. I try it as well  — very demurely — but feel nothing.  Mary Ann warns us that we might feel a little dizzy as the meat goes up our head, just like the effect of the shabu.   Nothing, though, maybe because I am too cautious.
10) Sisig!
The very gregarious Mary Ann shares that pregnant mommies during their time were given sisig for sisig makes babies' bones strong.  As time passes, it is the dear husband of the preggy mom who eats the sisig especially if paired with ice cold beer.
I only ask for a small portion of sisig, but anyone may ask for a second serving.  Consists of parts of the pig's head, chicken liver, calamansi juice and onions, this sisig needs no liquid seasoning nor chicharon.
11) Bulanglang kapampangan.   Sinigang for me is something real sour.  But the Tayag's sinigang is not exactly a sinigang but a bulanglang.  Its texture is almost like a gravy with a sweet/bitter taste, may be because of the very ripe and fresh guavas they use. It also has okra, gabi, and panigang na sili.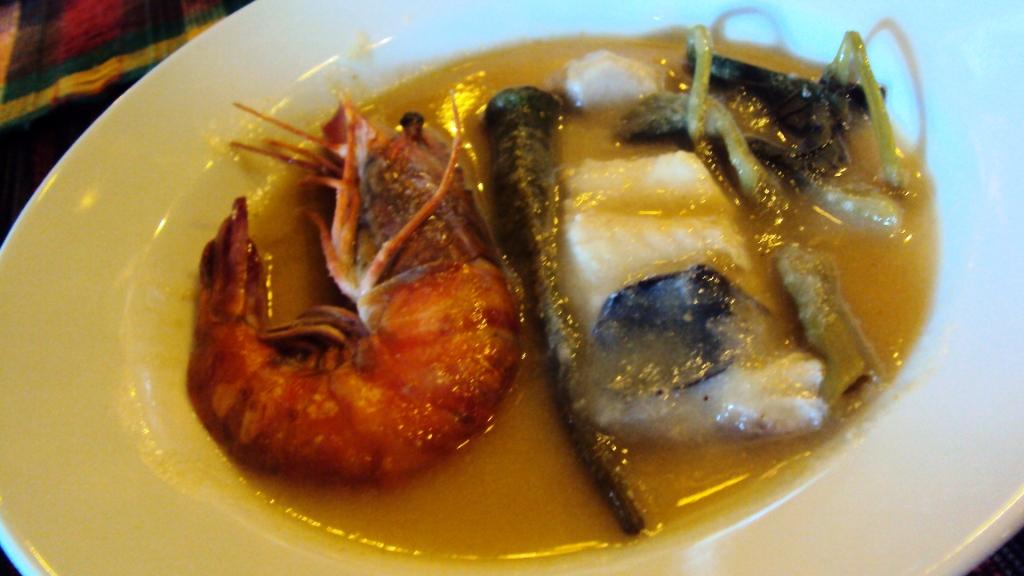 12)  Kare-kareng laman dagat is so beautiful you just can't resist taking photos of it.  The experience of sampling it is just as awesome.  Squid, prawns, and mussels cooked in a savory sauce thickened by peanuts.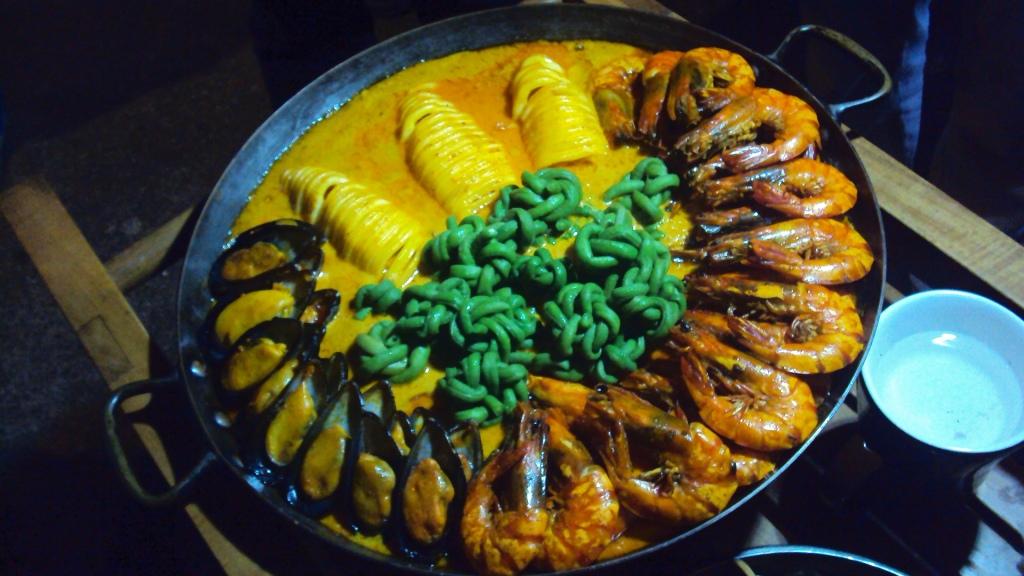 13) Tibok-tibok.  Made from coconut milk and carabao milk, this creamy pudding has a very thick and lush texture.   Best paired with Bale Dutung's very own brewed coffee — a mixture of half kapeng barako from Batangas and half of kape Arabika from Benguet.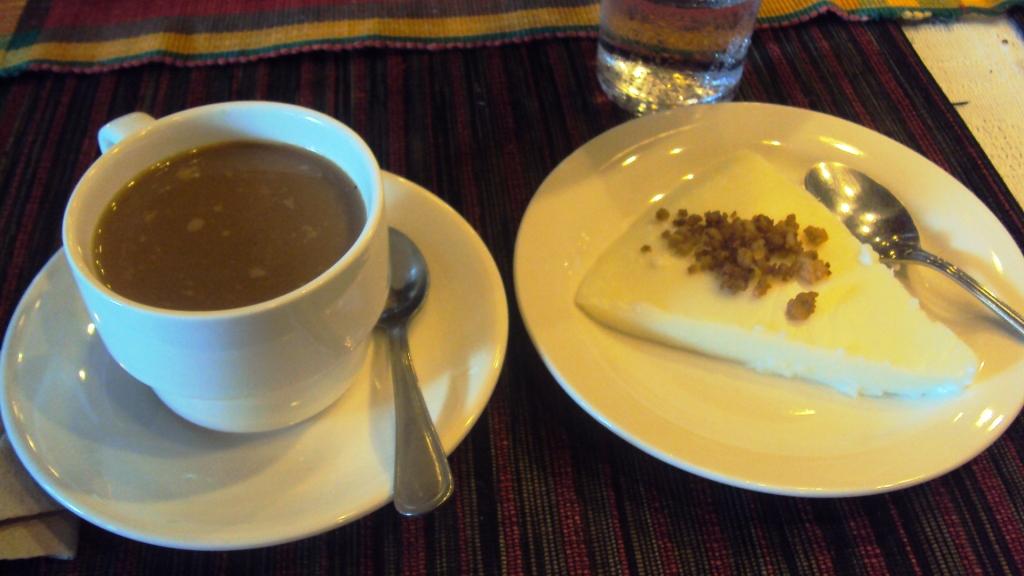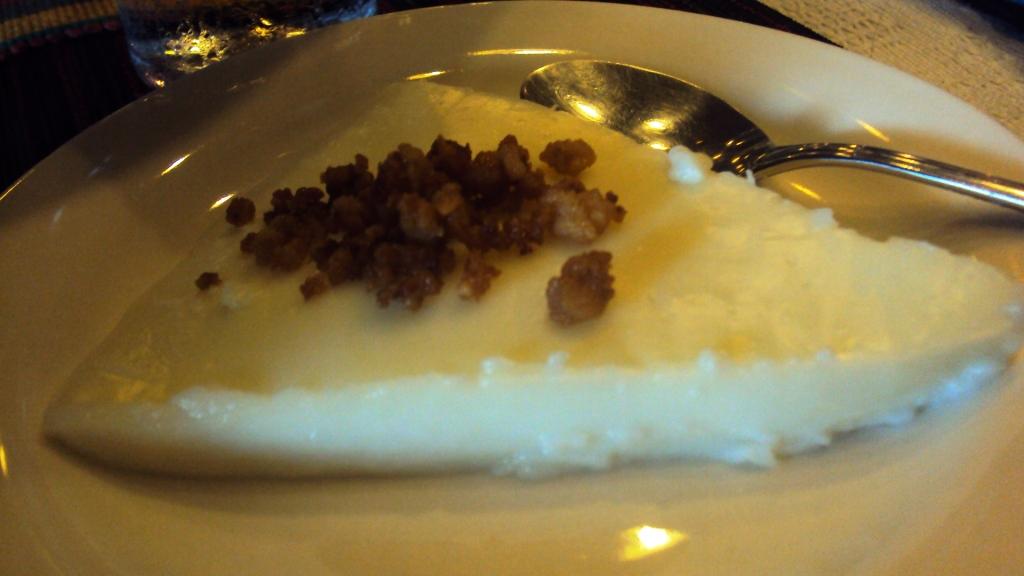 Chilled ginger drinks and water are constantly replenished on our table.  Service is well-trained and orchestrated by Mary Ann. Each plate and meal are quickly served or dished out — with a smile and a kind reminder not to hurry but just sit back, relax, eat, and enjoy.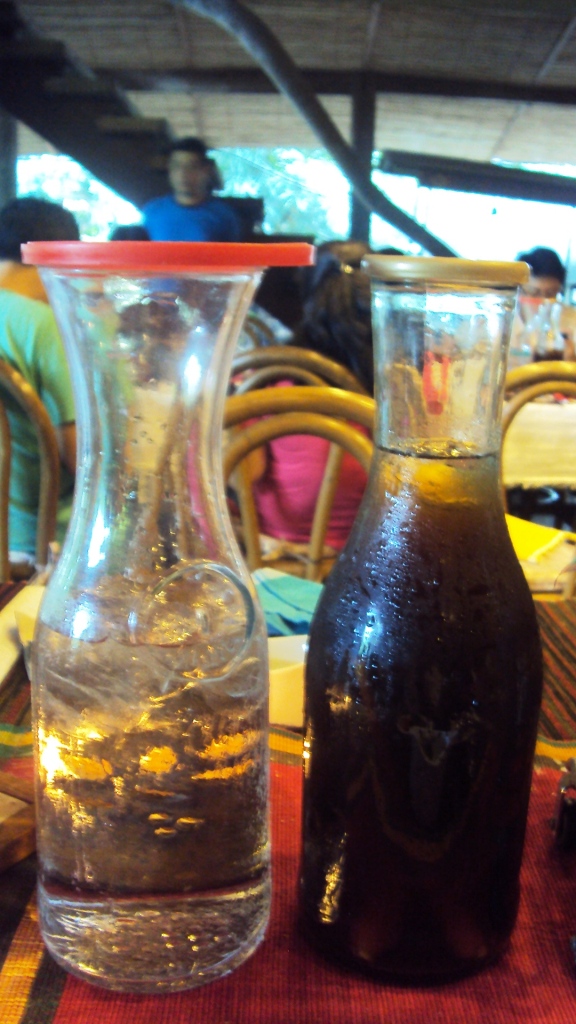 Bale Dutung serves 3 kinds of set menu:  1)  Kapampangan, 2) Anthony Bourdain, and the 3) Lechon 5 ways.  The Kampangan and Anthony Bourdain menus are at  P1850 each person while the last set menu is at P1750 per individual.  We opt for the Anthony Bourdain set menu, a menu named after the famous American chef, author and television personality.
Bale Dutung may also arrange lunch and merienda for security staff, drivers, and yayas for a fixed price of P150.  Children seven to eleven years old are half rate.
Do I find P1850 too expensive?
May be.  But with the experience that we had…  with a 10-course meal plus the bonus pan de bagnet  cooked by a renowned chef and artist…  with a hostess who by the way is the lady of the house and treats each one as a true VIP…  us dining not in an ordinary restaurant but in the chef's house… funny stories, trivias about the food and ingredients, and more kwentos…  and of course with a personal appearance of the chef towards the end of the service.. I would say that the Anthony Bourdain meal at P1,850 per head is worth every centavo.
A reservation is a must.  Call 0917-5359198 or check www.baledutung.com.
Also, unlike in buffets, we may eat as many as we can but normally without pacing.  At Bale Dutung, the very kind Mary Ann would help us pace our eating with each meal served in small portions leaving our stomach full in a right way.
How to get there?  Take a Victory Liner bus.    Check www.victoryliner.com for the schedule of trips and to locate the nearest bus station.  Get off at Angeles City.  Bale Dutung is located at Paul corner Francis Avenues inside the  Villa Gloria Subdivision in Angeles City.
That's me before the 3-hour meal on the left (with manong driver at the background), and still me on the right before the kare-kare.  So full and happy!
Thank you, Ms Marivic del Pilar of Victory Liner for your generosity and kindness.    Sa uulitin.