I've been to a place called Minalungao National Park.  It came from the local terms "mina" and "lungao" which mean "mine of gold in caves." Tatay Tasyo, our  amiable tour guide, relayed to us that there are alleged Yamashita treasures hidden in the caves and underground of the national park.
Sprawling over more than 2,000 hectares of land in the quaint town of Papaya in Nueva Ecija, Minalungao National Park has great potential for recreation and ecotourism.  Very distinct are its 16-meter high limestone walls bordering the narrow Penaranda River.  Its pristine calm emerald water along the Sierra Madre mountain range is another sight to behold.
From Gapan, Nueva Ecija, we hired a tricycle to bring us to Papaya (formerly General Tinio).  Travel time was about an hour and 45 minutes.  As we alighted from the tricycle, a serene riverbank greeted us, inviting us to take a short stroll and appreciate the calm water and green surroundings.  Such a charming sanctuary that for once, I felt I was in another world away from all the hustle and bustle of city life.
To get to the end part of the national park, one may opt to glide along the side of the sharply uneven limestone walls.  Though one may have a great view of the surroundings and the water from above, the trek was a challenge.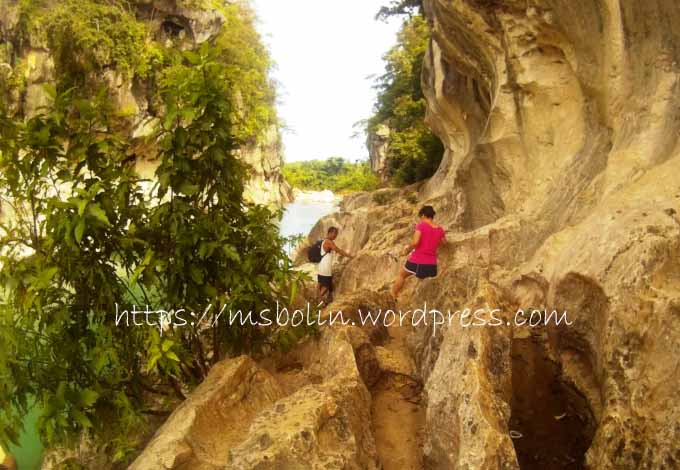 As we went back to the national park's main entrance, we requested Tatay Tasyo for a much easy and relaxing way — rent a bamboo raft.  We traversed the Penaranda River and had a more overwhelming view of the towering limestone formation bordering the river.
Minalungao was declared a national park in 1967.  More than its tranquil charm, Minalungao National Park is a treasure trove in itself offering exciting possibilities from trekking, spelunking, swimming, cliff diving, and bamboo rafting.
Now, whenever I pass by Nueva Ecija, more than its vast green rice fields, I picture the province as my top-of-mind weekend escape from the busy and noisy metro.  Not any more a simple transit stop from those long trips headed North as Nueva Ecija is home to a natural wonder that made me say "It's indeed more fun in the Philippines!"
So here's to more travel and adventure!  See you when I see you on my next trip.
* This Minalungao trip was, I guess, two years ago.  I was by then too eager to explore the beauty of the Philippines and yes, no baby to look after.  I am writing this for my boys to see how beautiful our country is and should they want to go on a quick adventure, they may perhaps consider Nueva Ecija's Minalungao National Park.