Most ladies I know take care of their hair, face, and skin.  They invest in products that promise to keep them looking youthful and beautiful. They change hairstyle, buy beauty products and makeup, and visit a slimming center to maintain the look they would want to achieve.  Does that mean they enslave themselves to absurd beauty standards?  It may appear shallow, but the truth is attractiveness plays into most parts of our lives, including being accepted and liked. 
Sadly, when it comes to reproductive health, many are guilty of not giving much notice to it.  Most ladies often neglect the significance of regular checkup, proper hygiene even, and the right products to use.  Yes, some products disturb the microbial balance of the genital area.  And when this happens, it may cause pain and discomfort down there. There are a lot of cases, too, that the simple trouble turned to vulvovaginal infections.  Bernadette Ong-Sumo, M.D., an Obstetrician-Gynecologist shared five common vulvovaginal infections and how to avoid them.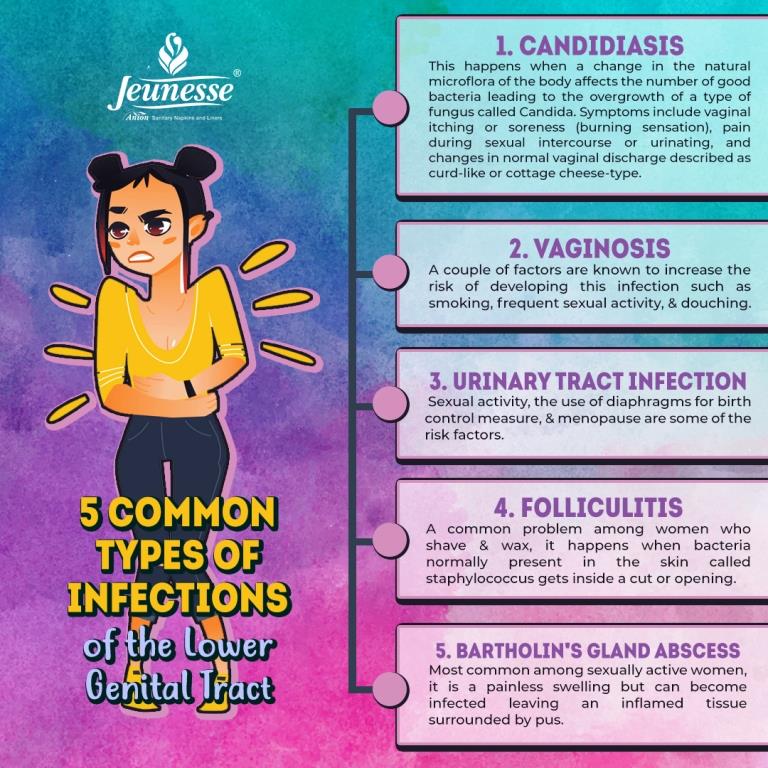 Bartholin's Gland Abscess
The gland responsible for secreting fluids to lubricate the vagina is the Bartholin.  When there's a fluid build up in the area because of an infection blocking its way, Bartholin's Gland Abscess develops. There is a presence of pus within the normal flora of the vagina. The sufferer also experiences pain during intercourse, difficulty in sitting and walking, acute vulvar pain, and sometimes, fever. To prevent the formation of an abscess, it is best to practice safe sex and good hygiene habits. 
Candidiasis
Also known as vaginal yeast infection, candidiasis happens when a change in the natural microflora of the body affects the good bacteria leading to the abundance of Candida fungus.  Candida is commonly found inside the vagina as well as in the human gut, throat, and mouth. Such infection affects three out of four women at least once in their lifetime.  Symptoms include vaginal itching or burning sensation and pain during sexual intercourse or urinating.  Those with candidiasis also experience vaginal discharge pretty much like cottage cheese.  Those prone to develop Candidiasis are pregnant ladies, using contraceptives, and have diabetes.  
A way to reduce the chances of getting Candidiasis is wearing cotton underwear and non-tight fitting clothes.  Usually, vaginal yeast infection clears up on its own.  However, over the counter, anti-fungal creams or tablets are available for treatment.  It is advisable, though, to consult with a Gynecologist first than self-medicate.  There are some cases when taking antibiotics can lead to even worse vaginal candidiasis.
Folliculitis
Did you know that hair removal causes minute skin injuries which may result in infection?  Folliculitis is becoming common nowadays because of the practice of pubic hair removal, either through waxing or shaving.  Folliculitis starts when the bacteria present in the skin or vagina get inside a cut or opening. It appears as groups of red bumps with white heads and pus or oozing blisters. 
If shaving is one's way to keep her hair trimmed and tamed, it is advisable to do it every other day with warm water.  It helps, too, that she applies shaving cream, and use a new razor.  Best as well to apply moisturizing lotion after. It helps, also, when one wears breathable clothes, use clean towels, and avoid sharing of personal things.  If one already has folliculitis, it is advisable to wash the infected area with warm water and antibacterial soap.  Best as well to dry the area thoroughly with a fresh towel and apply antibiotic creams or gels.  
Urinary Tract Infection (UTI)
UTI is caused by bacteria piercing through the urethra and then the bladder and kidneys. Symptoms include strong-smelling urine and burning sensation when urinating.  Those with UTI also have urine that appears to be cloudy or red. They also experience pelvic pain that stays around the center of the pelvis or the pubic bone. The probability of women acquiring at least one incidence of UTI during their lifetime is 50%.  At high risk are those who are sexually active and in the menopausal stage. 
A common and easy way to flush away the bacteria even before the infection begins is drinking plenty of water.  Doctors also advise that after urinating or defecating, it is best to wipe the area from front to back. This way, it prevents the bacteria from the anus or feces to spread towards the vagina and urethra. To add, it is a must to empty the bladder after intercourse to avoid more bacteria from growing.
Vaginosis
Vaginosis is a vaginal inflammation pretty much like Candidiasis.  The sufferer also experiences vaginal itching or burning sensation, especially when urinating.  She also has a thin, frothy, gray-white vaginal discharge and often with a "fishy" or "musty" foul-smelling vaginal odor.  Those who are smoking, have multiple sexual partners, and practice washing out the vagina with a water and vinegar or baking soda mixture are most likely to develop vaginosis.  Such vaginal inflammation is also more common among women in their reproductive years.
Common Types of Lower Genital Tract Infection
These five infection-related reproductive diseases are both avoidable and treatable.  Just like how we ladies take care of our hair, face, and skin, we should give the same consistent proper personal attention to our down under.  It's all a matter of good choice like wearing cotton underwear for better absorption of moisture and sweat.  Avoid wearing tight-fitting pants and jeans same with using scented feminine wash, pads or tampons.
This mother learned from her OB-Gyne that the use of unscented and 100 percent virgin cotton material for a sanitary pad like Jeunesse Anion is advisable.  The Institute of Chemistry in UP Diliman conducted a laboratory test and validated that Jeunesse Anion is unlike many ordinary sanitary napkins. For one, its pad is cellulose-based hydrogel modified. Second, the pad is super-absorbent, non-toxic, and hypoallergenic.  It also has anti-bacterial, odor-reducing, and anti-fungal properties.  Additionally, there are positive ions embedded in the material which attracts the negatively charged bacterial cells.  When this happens, the bacterial cells die, thus the decline of the bacterial population by 99.9 percent. However, a regular visit to our trusted OB-Gyne ensures our reproductive health in tip-top shape.
Jeanesse Anion is available at Mercury Drug Stores, Watsons, and other leading select department stores, supermarkets, and groceries nationwide.  Or you may always opt to visit Lazada or Shopee for hassle-free shopping.  
Momi Berlin Directory
Jeunesse Anion Website | Facebook | Instagram | Twitter