MakatiMed shares four most common playground injuries for children and how to treat them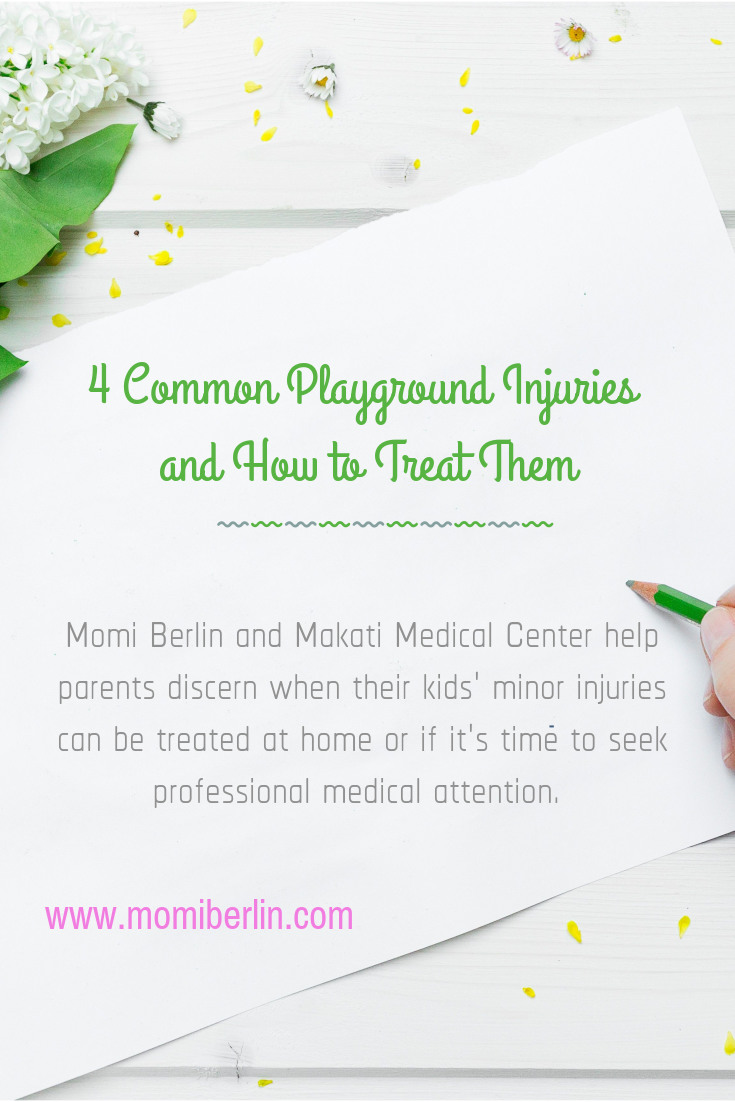 I was in Manila then attending a press conference.  We needed to come up with a story about Orthopedic Surgery.  I received a call from my son's school.  My then grade-two child fell from a monkey bar.
It was their school's foundation day. The students were allowed to play at the playground (which is just in front of the school). It was supposedly one of my son's happiest days at school. He was at his favorite place – the playground – hopping from the seesaw to the slides, and monkey bar.  My son miscalculated his climb and fell from the monkey bar.  He returned inside the classroom and just sat there.  His teacher noticed my son experiencing pain.  My little man narrated the incident to his teacher, and they went to the school physician.  The school president – who happens to be a doctor – advised for a transfer at the nearest hospital.  
My son broke two of his wrist bones.  
Playground time is every child's favorite activity, but small accidents and injuries can still occur even in the happiest place in town. Whether it's on the monkey bars, seesaw or those colorful slides, children can play rough and get hurt once in a while. While getting bruises and scrapes is just part of growing up, knowing what to do during these situations can help you avoid more severe mishaps for your children.
Makati Medical Center (MakatiMed), a top hospital in the Philippines, helps parents discern when their children's minor injuries can be treated at home or if it's time to seek professional medical attention.
Scrapes or cuts
These minor wounds are easily treated at home, especially if you know the proper first aid steps. MakatiMed's Emergency Department recommends three easy steps parents can follow to clean the cut. First, apply pressure on the scraped area for 5 to 10 minutes to stop the bleeding.  Then wash the wound with clean tap water. Lastly, apply an antibiotic ointment oil on the wound. Do not forget to cover it with a bandage or any clean cloth.
Ask medical help if: "The injured child has large scrapes or complicated wounds.  Such Scrapes may require skin glue, stitches or staples to stop the bleeding and properly cover the cut," says Daniel M. Luchangco, M.D. of MakatiMed. For an animal bite, it is important to bring them to the nearest hospital.  
Strains or sprains
Make the child rest the injured body part by staying still. Apply cold compress on the area several times and tightly cover the area with a splint to reduce the inflammation. Elevate the injured part above the heart level to decrease blood flow, which means less swelling.  
Ask medical help if: "The child's injured body part is oddly bent or misshapen.  A medical attention is also needed if the child feels intolerable pain and numbness on the area," adds Dr. Luchangco.
Nosebleeds
Make the youngster sit down while leaning his body and head slightly forward. Dr. Luchangco says parents must pinch together the soft part of the child's nose against the hard-bony ridge using a tissue or clean washcloth. Check if the bleeding has stopped after minutes and continue pinching the nose for another 10 minutes, if still needed.
Ask medical help if: The bleeding continues after 15 to 20 minutes. If the injured child loses more than a small cup worth of blood, better bring him to the hospital. 
Head injuries
If the kid hits or bumps his head during a fall, pay attention to how the little kiddo acts for the next 24 hours. If his usual behavior changes, it may be a sign of serious brain injury.  Behavior changes include being irritable, disoriented, or behaving unusually.
Ask medical help if:  The injured child shows signs of bleeding in the brain like a severe headache, continuous vomiting, disturbed speech and vision, or unequal pupils. This may lead to long-term brain damage or even permanent disability.
Common playground injuries
Incidents happen even at the place we least expect it to occur.  Though a simple cut or bruise may seem harmless, knowing what to do during these circumstances can help avoid critical mishaps from happening. And as always, better trust your instinct.  If you suspect that fall or sprain is beyond the usual, ask medical help.  And here's to wishing you all a safe and a happy new year.