Why Spend your Holiday #OnlyAtRoyce?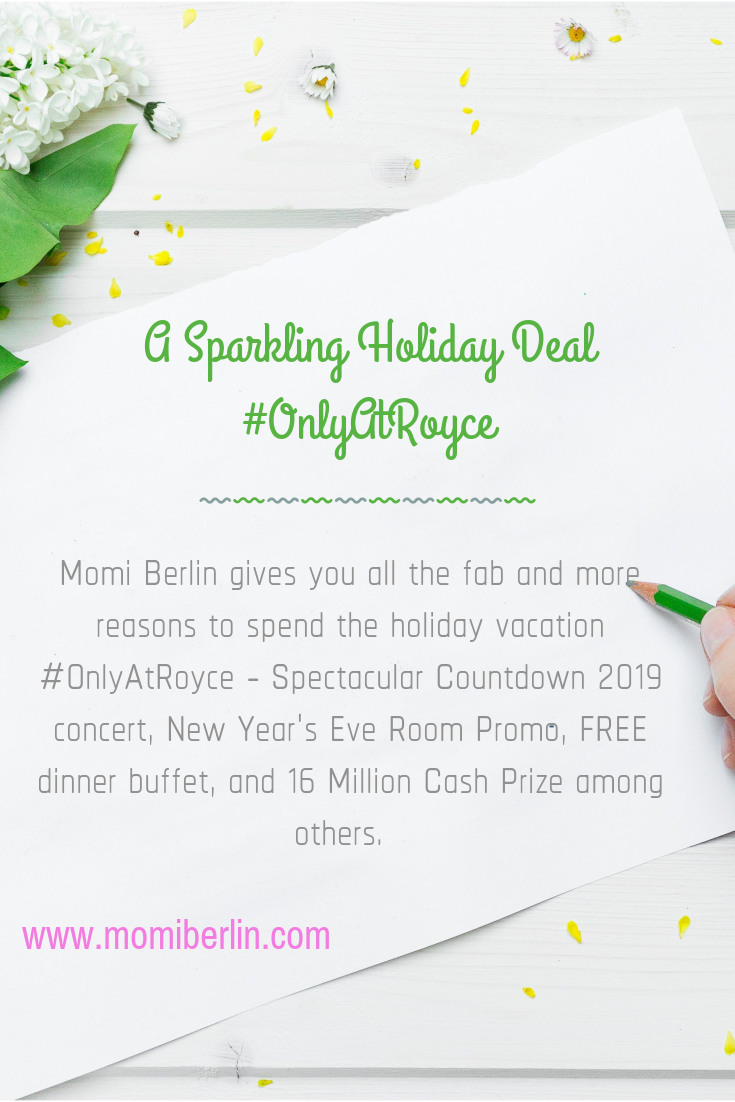 We spent our last New Year's celebration at Subic, Pampanga.  It was a first time to celebrate outside our abode, and a welcoming experience.  On our way going to school this morning, my mom complained of exhaustion.  She told me if we could again spend the holidays at Subic.  She likes the place's rolling green hills, the view of the grand sunset, and the comfort of the sea breeze.
My mom's request is a timely suggestion, I guess.   My boys have been diligent in their studies, and they need to get their brain to switch into relaxation mode.  Even husband who always thinks of work needs to take some time off to beef up his neural connections.  I could also imagine this mother taking some rest from all the home cooking, cleaning, and washing.  You remember when we were students and how we couldn't put that smile off our face because of the thought of summer vacation?  Well, that is the same happiness I am imagining. No household chores to worry for days.
In choosing for a destination, the first that comes to mind is Royce Hotel and Casino.  I always look forward to its monthly hotel celebration and would want to experience it myself.  I also heard that for this coming holiday, it would be a spectacular countdown to remember at this new integrated entertainment destination.  Imagine spending the end of the year with a bang as the hotel blazes bright with the most prominent holiday deals, a spectacular Countdown 2019 concert, and  16 Million Grand Blowout Raffle!
Spectacular Countdown 2019 concert
My boys are music lovers.  They would surely appreciate singing their heart out at the Spectacular Countdown 2019 show with X Factor UK Finalist 4th Impact, Tawag ng Tanghalan's Grand Winner Janine Berdin, and The Dawn's Jett Pangan. I heard ticket prices start at P500.
New Year's Eve Room Promo
I love the hotel's new year's eve room promo.  For love birds, the Bundle for Two Deluxe King is a win at P7,880.  The duo also gets to secure Gold Tickets each which is regularly priced at P1,500 a piece.  Aside from hotel accommodation, they will even get to watch the Spectacular Countdown 2019 concert with VIP seats, buffet dinner, and unlimited cocktail drinks.
There is also a Bundle for Three room and Bundle for Four room, all with Gold Tickets.
The Lounge's FREEday Friday Dinner Buffet
Now, think about this.  For P1,358, two persons plus 1 FREE get to enjoy the Lounge's Friday Dinner Buffet.  They can also have Holiday Treats like Bibingka cheesecake, gourmet sardines and tuyo, assorted candies and chocolates, and celebrate Noche Buena and Media Noche at the Lounge.
Empire Bar and Lounge's Frito Fest
Pair your favorite side dish with a bucket of beer at the Empire Bar and Lounge's Frito Fest for P788.  Or you may opt to grab a bite of your favorite panini sandwiches with a refreshing fruit shake at Cafe Majestic's It's A Panini Treat for P388.
16 Million Pesos cash prize
Now here is what makes everything exciting.  It doesn't matter if you've been naughty or nice.  At Royce Hotel and Casino, you can be one of the lucky winners of 16 million pesos total cash prizes tax-free.  For more details about this promotion, better join us at Royce Hotel and Casino and secure a room now.
Momi Berlin Directory
Royce Hotel and Casino Facebook | Instagram