Momi Joins the Grand OctoberFresh At the World Chicken and Egg Day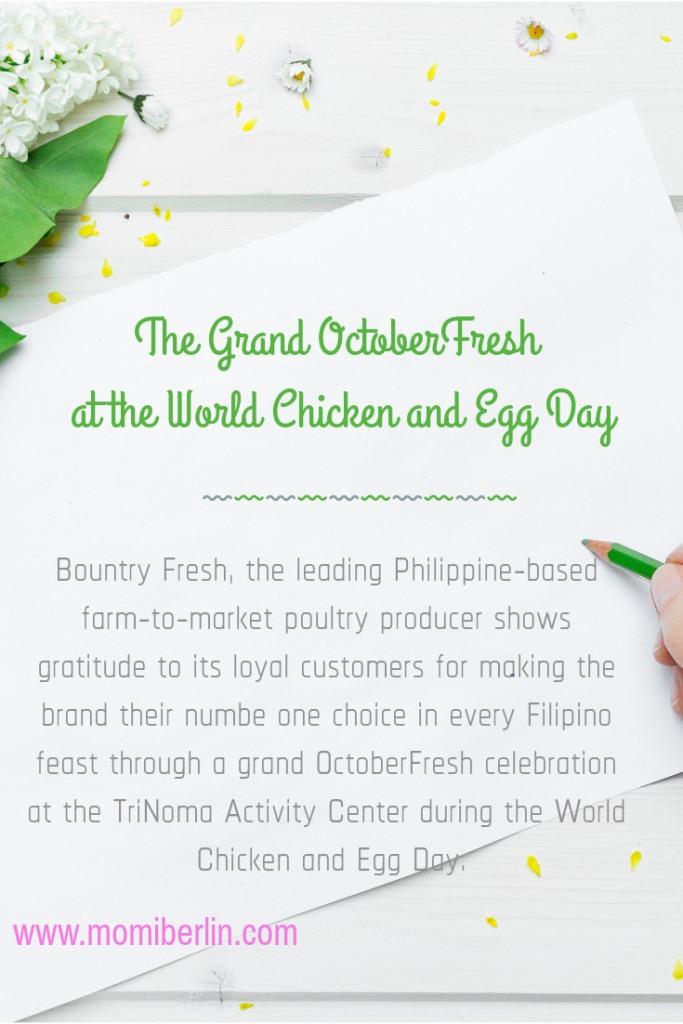 Last October 12, 2018, husband and our two little ones accompanied me at the World Chicken and Egg Day celebration. It was a fun-filled event to celebrate our favorite source of protein, and vitamin D.  Celebrated every second Friday of October worldwide, the Chicken and Egg Day is like a simple reminder of how the humble egg is a beautiful source of goodness and abundant nutrients.  It is also the day that poultry producers promote their products and educate the consumers about the power package of vitamins and minerals found in an egg.  
The Grand Celebration
Bounty Fresh, the leading Philippine-based farm-to-market poultry producer, celebrated it though in a more egg-citing way. Egg enthusiasts, guests, and mall shoppers trooped at the TriNoma Activity Center and joined the many egg and chicken booth activities and in-store promos.  Culinary segments, cooking demo, and television artists appearance were just a few of the happenings on the ground.  Almost everyone went home with big smiles on their faces with the many raffle prizes and hourly offer of chicken and egg products at a fantastic P20. 00 only per item!
The Grand Gesture 
That is Bounty Fresh's way of showing gratitude to its loyal customers for making the brand their number one choice in every Filipino feast. Through the event's theme OctoberFresh, Bounty Fresh likewise didn't fail to focus on the many benefits in buying only the fresh products. The brand's chickens and eggs are strictly produced using only the state-of-the-art ISO-certified technology and processes.  This guarantees that each Bounty Fresh produce is of the highest quality, steroid-free, and the most nutritious. 
The Grand Price 
Did I mention I attended the fun with my boys? Our Little Man is a huge egg lover that he can survive with eggs morning to lunch and dinner.  He wasn't feeling well that day. He was nursing some flu, but still, got excited over the many activities and even participated in some.   He even found the golden egg at the Eggsploration booth.  Too bad we weren't able to stay long for the raffle.  But we are sure to imagine that the winner of the P100,000 grand prize must be head over heels happy.  Who would ever think that by just having fun, one can bring home a hundred thousand pesos? Such luck.  
Well, as someone went home lucky last Saturday, I know Bounty Fresh is more than inspired to continue providing Filipino families with delicious meat and egg of high quality, steroid-free, all at the most affordable price. 
Momi Berlin Directory