Classic fairytale gets a quirky twist in Rep's Rapunzel! Rapunzel! A Very Hairy Fairy Tale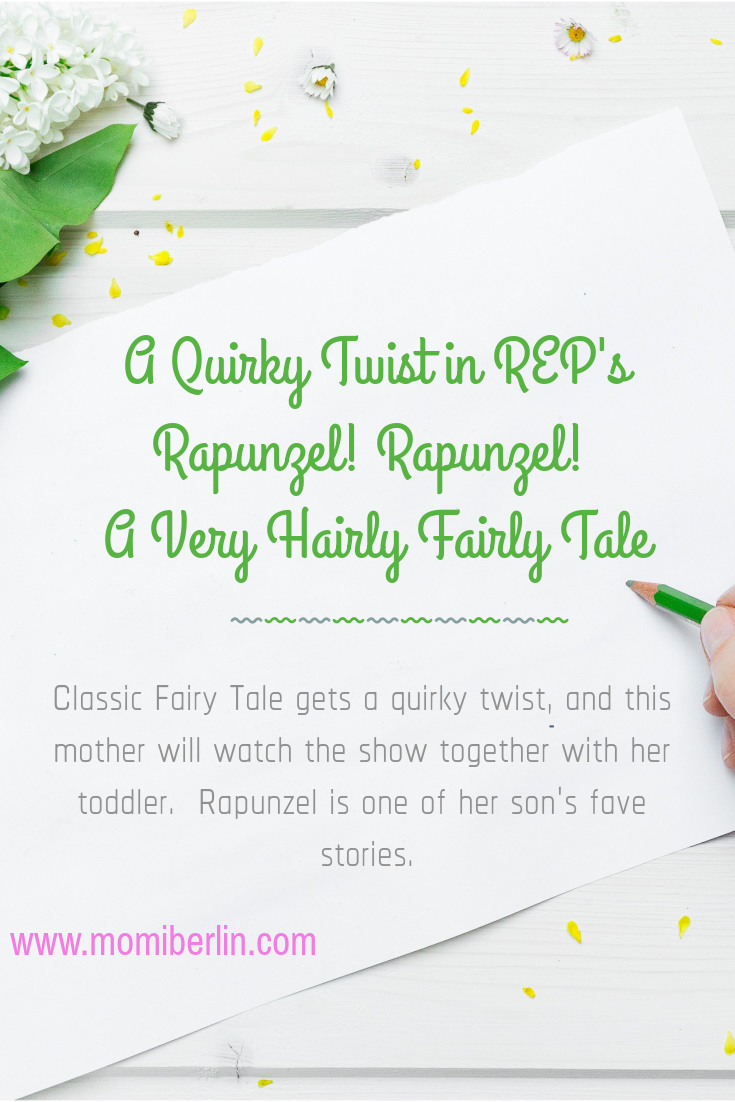 This mother loves reading to her boys, especially to the two little ones.  We've got many storybooks at home, and each night before we hit the sack, our three-year-old boy would get a storybook from our bookshelf.  He will climb on bed and hand to me the book.  He will settle down and request his little brother to sit down properly.  Then I will read to them the story of the night.
Despite being a boy, our toddler loves the story of the princess with the very long hair, Rapunzel. He loves it when I gesture Rapunzel's long hair that he would keep giggling for minutes.
As I read to them last night, I was one who keeps on giggling.  We are reading the story of Rapunzel, and I imagine my son's happy face if he will see the princess in person.
REP's Theater for Young Audiences reinvents the classic, whimsical adventure of Princess Rapunzel in Rapunzel! Rapunzel! A Very Hairy Fairy Tale.  The show will run from September 15, 2018 to January 27, 2019 at the OnStage Theater, Greenbelt 1, Makati City.
A Quirky Twist
Based on the story, music, and lyrics by Janet Yates Vogt and Mark Friedman, the play opens with the beautiful, extremely long-haired Princess Rapunzel being kidnapped and trapped inside a tower as the evil Lady Za Za tries to seize the entire kingdom and place it under her rule. Cara Barredo, Mikkie Bradshaw, Justine Narciso, and Alyssa Rosa will play Princess Rapunzel. Carla Guevarra-Laforteza and Liesl Batucan, on the other hand, will be the evil Lady Za Za. 
While on the quest to find the perfect head of hair, Sir Roderick and his hairstylist friend Edgar find their way to the tower in the middle of the dark forest.  The two will rescue Rapunzel with the help of a slightly neurotic Gypsy Woman and witty, old dragon Socrates.  Indeed, the story has its funny twist but with the acclaimed performances of the REP stars, no doubt the show will be such a hit.  
Hans Eckstein, Andres Borromeo, and Brendon Banares will play Sir Roderick, while Steven Hotchkiss, Chino Veguillas, and Kenny Isidro will be Edgar.  This mother is excited to see Bituin Escalante or Naths Everett play the Gypsy Woman.  As the old dragon Socrates, Arnel Carrion, Raymund Concepcion and Jamie Wilson will take center stage.
I have seen how Joy Virata acts and sings; thus no doubt her direction will be superb as well.  
Interested organizations and schools may now reserve slots for fundraising purposes. For the available show dates and tickets, call REP at 843-3570 or Ticketworld at 891-9999, or log on to www.ticketworld.com.ph.
So if your kids so love the story of Rapunzel, give time and watch the play.  Surely, you will find it witty and funny plus make your little ones happy.  They will see for themselves the characters they only get to read from that colorful book.  See you at Greenbelt Onstage then!
Momi Berlin Directory
Repertory Philippines Website | Facebook | Instagram | Twitter