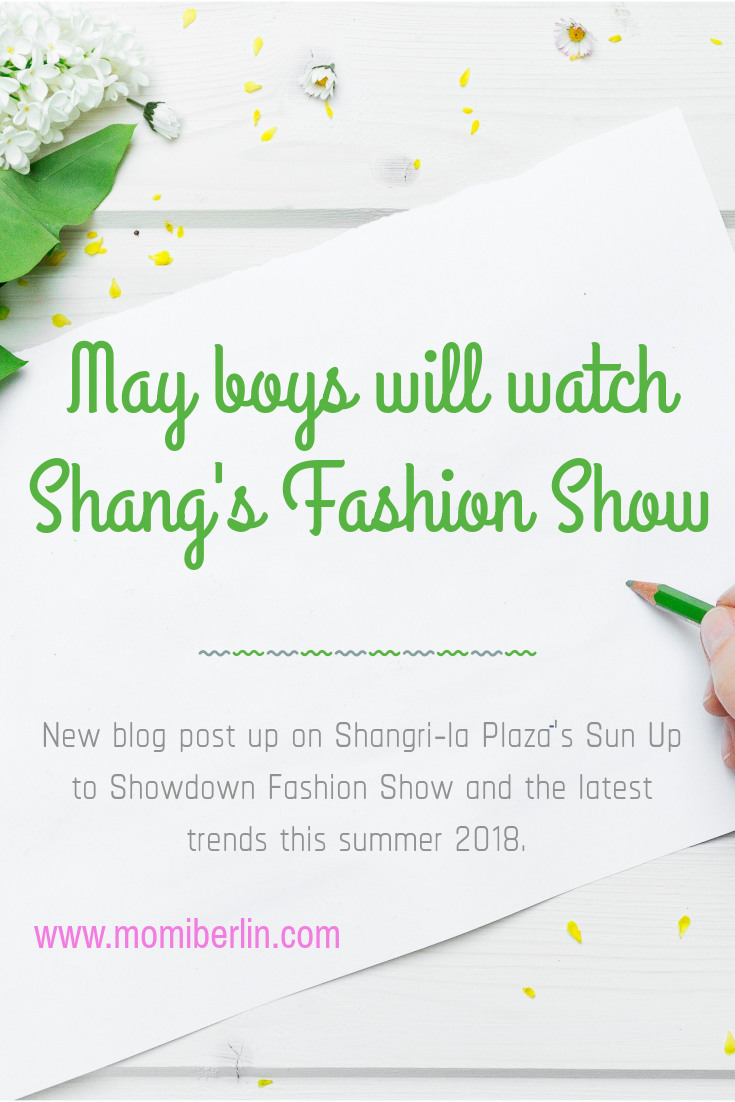 Last night, the boys are nagging their father to watch the Avengers: Infinity War.  I told them we will be going to Shangri-la Plaza this Sunday so they better check out if the flick is still showing there.  My reason for having said that is because I would like my boys to watch the Sun Up to Showdown Fashion Show at the mall's Grand Atrium.  For sure, fashion lovers will be on the lookout for the summer's hottest trends and must-have pieces to freshen up their wardrobe.  As for this momi, I would want my boys to be in the know about the latest fashion and how one should carry himself.   
My three boys are now in High School.  They attend an all-boys Catholic school.  Many times I've been to their school and I have seen how teenagers experiment with funny trends and join their peers in wearing tattered or skinny jeans.  I would want my kids to learn what suits them and spare them those hilarious throwback photos.
Shang's Sun Up to Showdown Fashion Show
Teens & Adults Fashion Show
This momi looks forward to seeing the Teens & Adults Fashion Show on Sunday, May 6 at 6 PM. I aim that my boys get a look at the trendiest pieces from Anne Klein, Armani Exchange, and Arrow.  Other clothes to be used are from Bayo, Debenhams, Details, and G2000.   There will also be a few pieces from John Herrera, K & Company, Lacoste, Mango, and Marks & Spencer.  And some of my fave brands Old Navy, Plains & Prints, Polo Ralph Lauren, and Rajo! will also be included.  The most stylish pieces from Rustan's Department Store, Stradivarius, and Styled will be modeled, too, by those walking the runway.  There will also be pieces from The Park   Vise Versa, Zara, The Flower Collection, and Weave.
Kids & Teens Fashion Show
For those aiming to catch how young models strut the runway sporting the hippest looks from the trendiest pieces, you may opt to catch in on Saturday, May 5, at 6 PM.  Some of the brands the kids will be seen wearing are from Calvin Klein Jeans, Folded & Hung, and ForME.  There will also be pieces from GAP, Gingersnaps, Great Kids and Joe Fresh.  Fashion lovers will also surely look out for the trendiest from Just G, Mothercare, and Onitsuka Tiger.  Of course, mom's fave brands like Osh Kosh B'Gosh, Paul & Shark, Penshoppe, and Periwinkle will also be included.  And to complete the line up of brands, there will also be clothes from Rustan's Department Store, Skycastle, Superdry, Zara Kids, TRF, The Park, Oxygen, Regatta, Memo, and True Religion.
Summer trends
I am looking forward that after the show, my boys learn what to stock up that will perfectly capture the summer spirit.   Perk up basics with Crayola-bright colors, achieve the hot Athleisure aesthetic with sporty sneakers and a comfy pair of joggers matched with a dressy top, and go for the Denim + White combo, a refreshing look that's both functional and stylish. Of course, summer staples like stripes and florals continue to be perfect style choices for the season.
I have come to know that the summer collection's highlights are trendy details like sheer, ruffles, fringes, and sequins.  These would instantly make any outfit pop.   Sharply tailored colored suits will also be highlighted that are sure to add a little fun to formalwear. Participating brands will have special deals over the weekend, so better make the most of their offers.
My boys will watch Shang's Fashion Show
My boys are excited for Sunday.  Their mom is excited for Sunday, too.  Shangri-La Plaza knows how to turn up the heat with its Sun Up to Showdown Summer Fashion Show.  And I can't wait for my kids to learn what suits them perfectly.  They need to learn from experts how to dress and carry themselves.  Beyond the instagrammable pieces they will sport, it is the confidence to see them comfortable with their choices that I am after.  I was a teenager once and I had my hilarious choices.  Looking back, I would have wished my mom brought me to fashion shows, too.  I would have learned how to dress confidently that time.  
So moms and dads, be sure to visit the Shang this summer.  There's no better place than the Metro's top lifestyle destination to score the season's hottest trends.
Momi Berlin Directory
Shangri-la Plaza Facebook | Instagram