I understand those parents who can't find time going out-of-town with their family.  They have obligations or commitments they simply cannot leave behind.  Same is the case of my husband who can't be gone for two days straight.  He would often tell us he still needs to look for money for the boys' tuition fee.  Also, my upcoming childbirth is something we still need to save for.
Go Wild at Shang's Wildlife Adventure
Good news then that Shangri-La Plaza presents the latest segment of its popular Broadcast Augmented Reality (BAR) with Shang's Wildlife Adventure.  It will run until June 4 at the East Atrium of the posh mall in Mandaluyong City.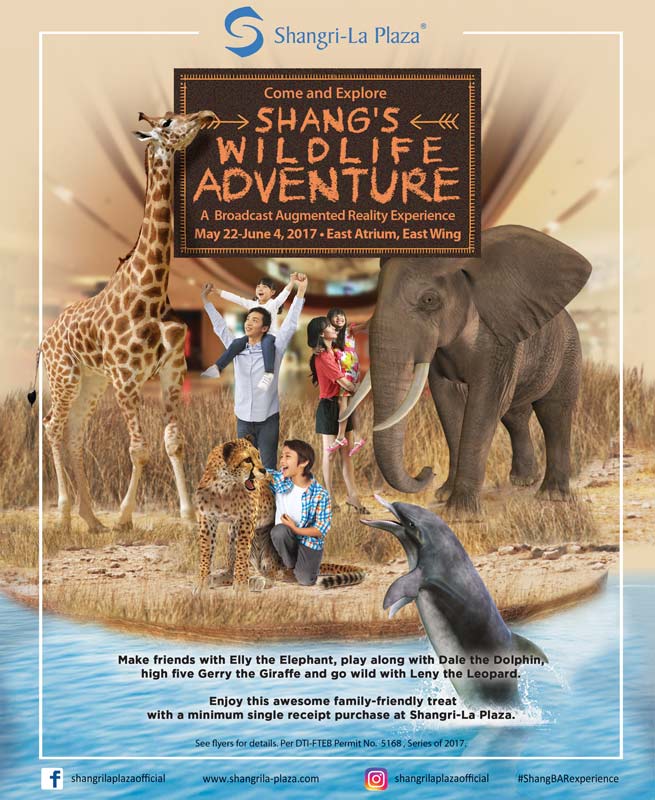 Mall guests get the unique chance to travel to some of the most incredible locations in the world with this immersive experience.  Shang's Wildlife Adventure visitors can interact with the biggest land and sea mammals, to the fiercest predators.  Some of the featured animals are Elly the elephant, Dale the dolphin, Gerry the giraffe, and Leny the leopard.   And aside from the wildlife experience, mall guests will also get to take a spacewalk with an astronaut and even get caught in the middle of a tropical storm.
Indeed, this is a great treat for the kids and kids at heart.  My boys, for one, are all up for some wildlife adventure. The spacewalk encounter is another experience they would surely love.
A family-friendly treat
And the good news is, everyone could have the chance to explore the wild.  Mall guests just need to exchange their single official receipt or tape receipt (purchased from May 22 to June 4) worth P750 for the Shang's Wildlife Adventure ticket.  The activity is open daily during mall hours.
This is definitely good news for my boys. They have been begging their parents to at least visit the zoo or even the Mind Museum again just before the school starts.  Now, we need not travel far to give in to the children's demand. Shangri-La Plaza is just less than an hour drive from our place.  Very timely that we still need to shop for the boys' school needs and we may do our shopping at Shangri-La Plaza.
So for families like us who can't find time to travel far to visit the wild or even experience outer space, head on to Shangri-La Plaza.  Shang's Wildlife Adventure would surely let us touch the untouchable and even interact with the impossible.
Momi Berlin Directory
Shangri-La Plaza Facebook | Instagram