Have you ever wondered how we get our drinking water?  How about what happens to our wastewater? Momi Berlin would like to share with you an important graphic on the urban water cycle.
The graphic clearly illustrates the natural water cycle.  This involves the continuing process of evaporation, condensation, and precipitation.  The urban water cycle, on the other hand, details the journey of water collection for urban use then how it goes back to the natural water cycle.
Let me make it easier for you to understand.
The Urban Water Cycle
We get water from the dam.  The water then undergoes cleaning using several treatment processes before making its way to household faucets.  And from there, we get our drinking water.  Most of us though rely on water refilling stations.  They further purify the potable water supplied by Maynilad, for instance, by utilizing water treatment equipment.
How about our wastewater?  Wastewater is referred to as the water we use for drinking, bathing, cooking , and other household activities.  A majority of wastewater got its way to individual septic tanks in each home.  Maynilad offers cleaning of septic tanks or commonly referred as desludging service.  The company deploys vacuum trucks that collect wastewater materials from septic tanks.  The collected materials are hauled to the Septage Treatment Plants.   Treated water could now then be discharged safely back to the bodies of water.  Solid waste, on the other hand, is converted into biosolids used in agriculture.
What am I driving at?
The Adverse effect of untreated wastewater
According to a study by the University of the Philippines, Maynilad customers consume about 35 gallons of water per person per day.  About 80% of the water consumed every day turns into wastewater.   If left untreated, wastewater can put community health at risk and harm the environment.
The untreated wastewater contaminates the groundwater which will hurt our health and environment.  We might have diarrhea, hepatitis A, or leptospirosis.  Our environment may suffer eutrophication.  It is a form of water pollution. It occurs when excessive nutrients run into bodies of water and result in the growth of plants and death of fish due to lack of oxygen.  Fish kill or the sudden destruction of large quantities of fish is also an effect of water contamination.   These water pollution and fish kill would result in unsafe food or shortage of it.
So we need to do our part.
The simple things to counter adverse effects of untreated wastewater
We need to:
Conserve water
Water conservation helps preserve our environment.  It reduces the energy required to process and deliver water to us.
Practice proper waste management
There is no other satisfaction than having a clean environment when you practice proper waste disposal.  Aside from the fact that we prevent the occurrence and spreading of diseases.  Plus we enjoy the absence of unsightly garbage. Now, how about we continue to throw trash in the toilet for instance?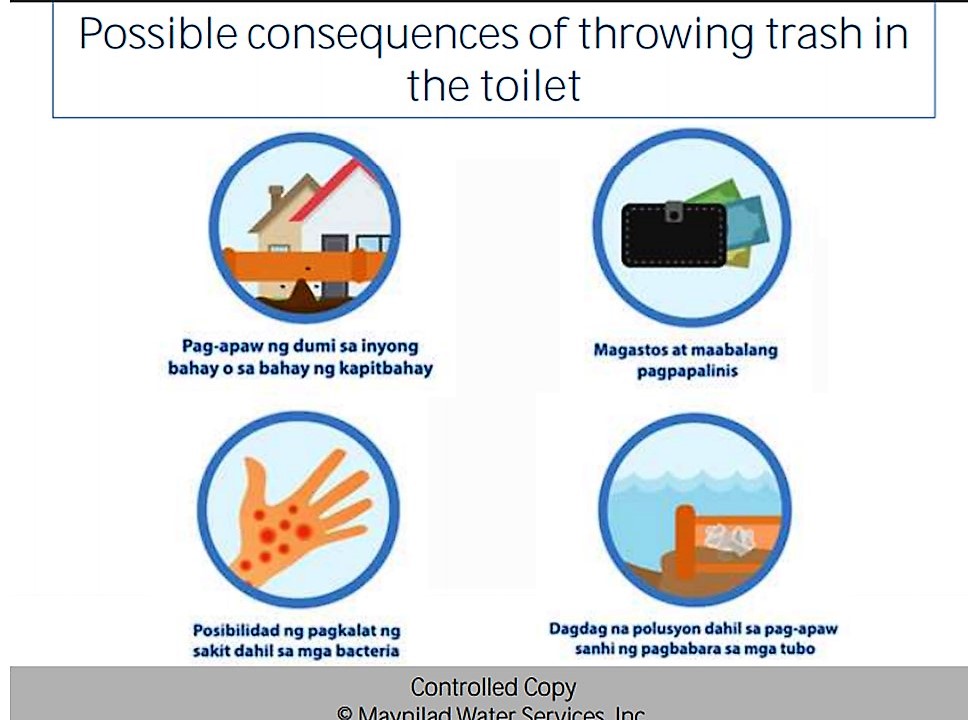 Manage wastewater
My boys told me once that they learned in school about the Clean Water Act of the Philippines.  It was stated there that there should be a proper collection, treatment, and release of wastewater.  Given this, each household is required to have its own septic tank.  And it should be cleaned every five to seven years to empty the accumulated solid waste.
It is reassuring to know that aside from providing clean water, Maynilad also provides wastewater management services.  The group maintains the West Zone of the Greater Manila area.  This includes part of Manila, Quezon City, and Makati.  Also included are Caloocan, Pasay, Parañaque, Las Piñas, Muntinlupa, Valenzuela, Navotas and Malabon).  It likewise covers the cities of Cavite, Bacoor and Imus, and the towns of Kawit, Noveleta, and Rosario.
There are two types of wastewater management services provided by Maynilad:
Sewerage Services. Some of Maynilad's customers are connected to a sewerage system.  The wastewater from households is transported to facilities where it is processed before discharge to bodies of water.
Sanitation Services. Maynilad customers not connected to sewer lines are provided sanitation services.  This includes the regular cleaning of septic tanks once every five to seven years. Within this period, the service is offered at no extra cost.
I asked husband if we had our septic tank serviced. He told me that desludging is not to be regarded as a free service from Maynilad.  The sanitation services offered by Maynilad are already incorporated in the water bill.  It is but prudent to avail of this service.  Unless you want your tanks to overflow- which is, of course, unsanitary. Plus, do not forget the adverse effect of untreated wastewater we have enumerated already.
So as a mom,  I appeal to you to avail of the desludging services of Maynilad (if Maynilad covers your area).  It is also prudent to act responsibly to conserve water and practice proper waste management.  After all, Earth is our home, and it is where our loved ones live as well.
* Momi Berlin, together with her 11-year old son and a few Nuffnang Bloggers participated in the Daloy Dunong Educational Tour provided by the Maynilad Water Services, Inc.  This mother is thankful for the opportunity thus pays it forward through this post.  I hope you will find this informative.