Going back to one's first love is not that hard especially if everything seems so smooth and leading to that way.
The Philippine's Queen of Comedy Ai-Ai Delas Alas said during the recently concluded press conference of the "Ai Meets Lani: Lani May Ai?" that it is always a joy for her to go back to what she considers her first love – doing concerts – even if she has gained stable supporters as a prominent actress in the entertainment industry.  She is set to perform live with none other than the Asia's Nightingale Lani Misalucha.  The duo's concert is set on September 17, 2016 at the Kia Theater.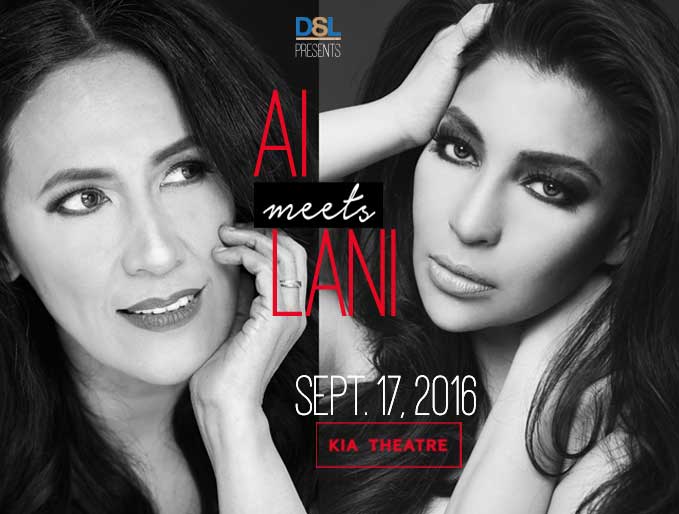 Ai-Ai gained nationwide recognition for her blockbuster movie series Ang Tanging Ina.  Before that, though, she performed live in several comedy bars until she entered the concert scene and soon bagged the title "Concert Comedy Queen."
Ai-Ai's infectious and outlandish humor will be put to test as Lani Misalucha, also known as "The Siren of the Strip", is set to belt out her powerful operatic voice onstage.  During the conceptualization stage, the now concert producer Pops Fernandez related that they expect Ai-Ai's and Lani's lively, good-natured banter to surely burst into an interesting mix of songs.  As Lani sensitively renders her heartwarming repertoire, Ai-Ai will belt out forceful tunes with her own flair and vocal prowess.  Their showdown will, no doubt , make the audience laugh, cry, and love all over again.  Both, after all, are known to have such powerful influences in capturing the hearts of the audience.
The "Ai Meets Lani: Lani May Ai?" concert guarantees everyone to go home with such wonderful treat of music, insightful anecdotes, and jokes as memorable takeaways. And this early, almost everyone in the music industry and even show business sees the tandem as a unique combination that will definitely be a hit.  Directed by Floy Quintos, the concert is a timely celebration of Ai-Ai's birthday and Lani's 20th year in the music industry.
Interested? Call DSL Events and Production House  at (02) 659 3474 / 0933 5198118 for ticket inquiries and reservation. One can inquiry and reserve tickets as well at Ticketnet (02) 911 5555.
Ticket Prices:
SVIP           PhP6,180.00
VIP 1          PhP4,495.00
VIP 2          PhP3,935.00
Orchestra   PhP2,360.00
Balcony      PhP1,125.00
Momi Berlin's Directory
DSL Events and Production House Webpage / Facebook