ODD:  (adjective)  strange or unusual / different from what is normal or expected
I have been to a place which is quite different from the usual cafes around.  I meet the owner and surprisingly, he is not the eccentric type I am expecting.  He, on the contrary, speaks engagingly and loves food.
Thus, most of the dishes they serve at Odds Cafe and Nail Spa are exquisitely mouthwatering.  Mr. Art Sebastian, the owner,  carefully decided on the menu and tried each of them first before coming up with the final list.  Anything just plain satisfactory to his taste was put to waste.
That is how hands-on Mr. Art is with his business.
And yes, the name of his business is  Odds Cafe and Nail Spa.  And odd as it may, but they really do have a nail spa upstairs for those who would love to have their nails done while the husband or the kids, perhaps, are busy filling in their stomach.  Though it is not always the moms going upstairs for the pampering session as relayed by Mr. Art, a great number of their guests are also barkadas who just want to have fun after a busy day at the office.  Of course, a bulk of the customers are families, too, who would love to dine  in over some Snakes and Ladders or Scrabble.
The Odds Cafe and Nail Spa is a first-of-its-kind concept shop that offers food and full-service nail salon in one place.  And as a mom, I , too, believe that these two compliment each other and can be served in a single place a the same time.  When we had our visit, we saw a customer having her late dinner while the nail technician was busy painting the client's toes.

If one finds the place odd because of its food and nail spa concept, others may find the food itself odd.  At Odds Cafe and Nail Spa, they offer some of the different-from-what-is -the-usual-meal choices.  They have Harry Potter's Butter Beer and their's is not too sweet.  It is served in a really big mug, perhaps, suitable for Hagrid's size.
Another favorite is their salted caramel creamies.  It is so heavenly delicious and of considerable size.  One could have it while having her nails and I doubt if she could still finish it.  It is that big!  Their salted caramel latte (either cold or hot) is just as superb.
I order for Spicy Sardines and Olives and I like the way it is served.  Its spiciness is not the gasping-for-breath type  nor feeling-as-if-your-taste-buds-were-on-fire. One could still surely handle the hotness of the sauce as the olive oil balances the taste.  However, I would want my pasta to be firm to the bite and not swimming from too much olive oil.
Their Tuna Pesto is not al dente as well.  I would like to assume that the cook is just too sleepy he must have forgotten his pasta.  After all, it is already eight in the evening.
A friend asks for Odds Clubhouse with chips.  I like the chips.  It is not too salty.  The clubhouse, too, is filling as it is heavily stuffed with sliced cooked poultry, lettuce, tomato, and mayonnaise.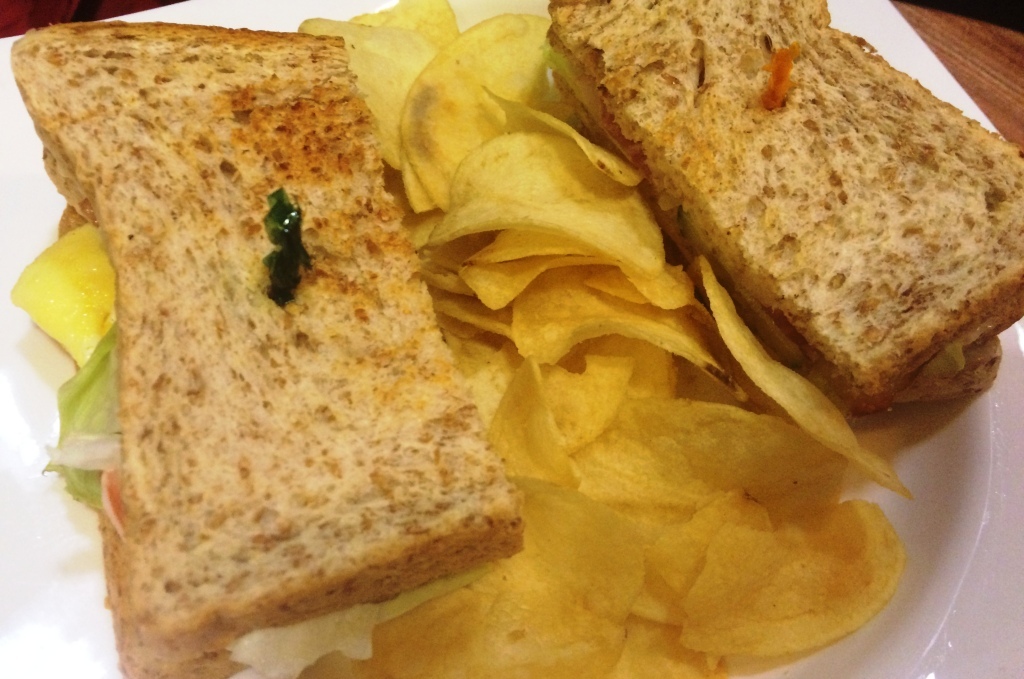 But what we all like best about Odds Cafe and Nail Spa is their BBQ Pork Ribs.  It comes with a special sauce but even without the sauce, the pork ribs is just luscious and finger-licking and lip-smacking.  That is how heavenly it is.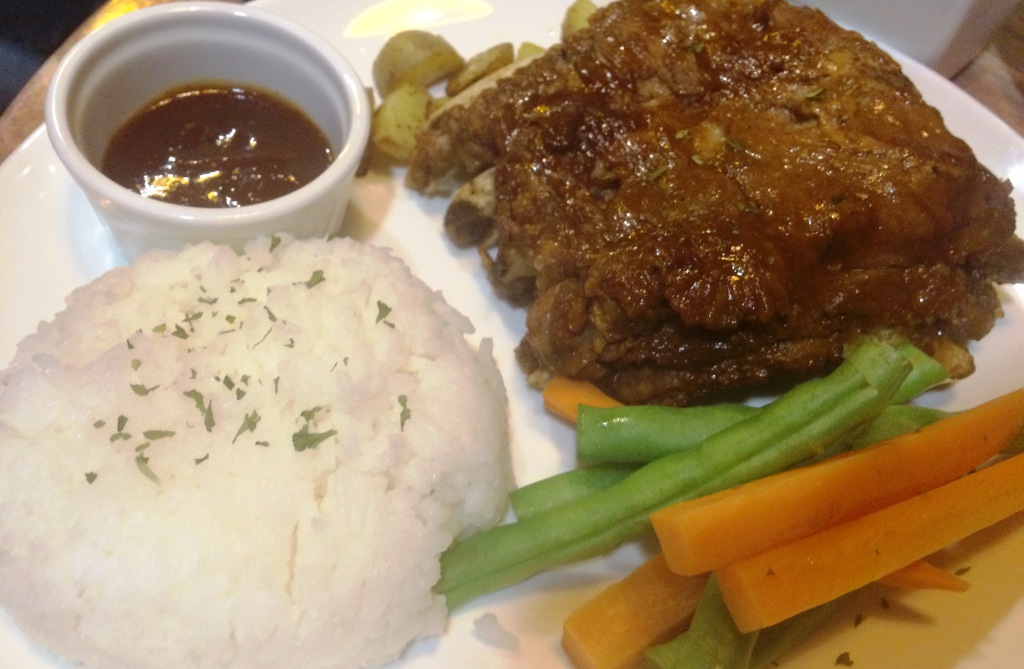 Odds Cafe and Nail Spa is open daily from 12nn to 12 midnight.  And for all Saturdays of August, they have their Rhythm & Brews as a special anniversary month-long treat to all customers.
Try Odds Cafe and Nail Spa.  I am one busy mom and I must say it is worth the visit.  You could have your nails done while your family is downstairs having lunch or dinner.  The husband could even have some massage treatment.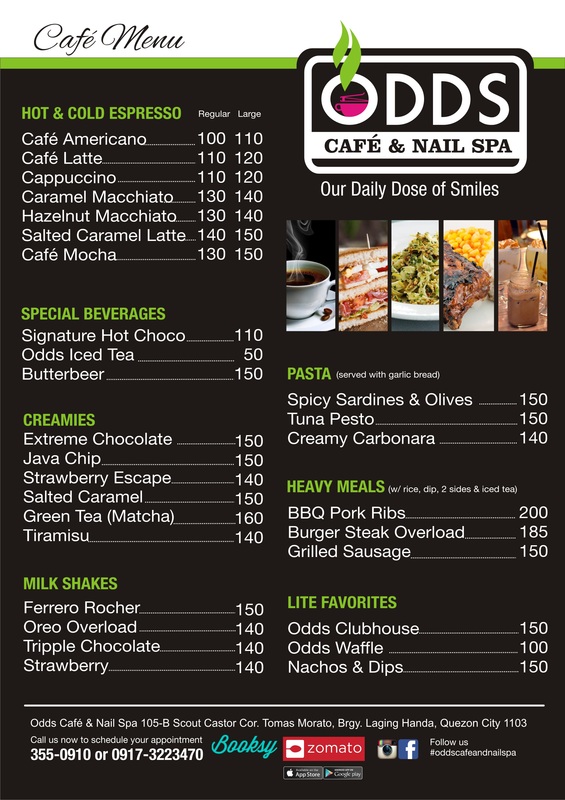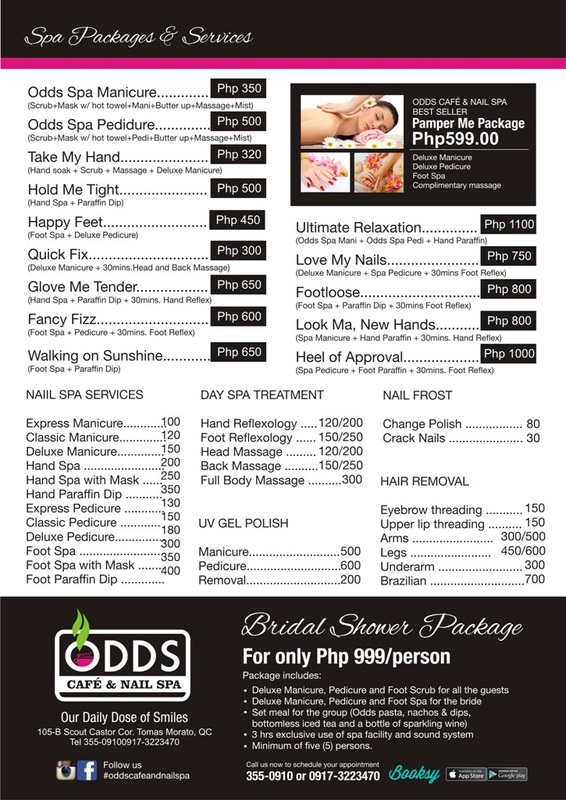 And as for Mr. Art, clearly, the odds are ever in his favor.
Momi Berlin's Directory
Odds Cafe and Nail Spa Website / Facebook / Instagram
ODDS CAFE & NAIL SPA
105-B Scout Castor near corner Tomas Morato,
Brgy. Laging Handa, Quezon City 1103
Telephone no. (02) 3550910
Mobile no. 09173223470
Viber 09771627121
Email address: oddscafeandnailspa@gmail.com
Business hours : Monday to Sunday 12nn to 12mn (Cafe) and 3pm to 12mn (Nail Spa)