Aside from New Year resolution list, the boys were asked by their teachers to submit a photo collage of their Christmas celebration.  For firstborn, this was something not that difficult to do since we got a good number of photos taken last December. Fortunately, as well that our country has earned the distinction of celebrating the world's longest Christmas season thus we were able to include many photos from Christmas caroling (as early as September) to Simbang Gabi and even the epiphany or 3 kings celebration.
Firstborn's collage was something creative and different from the usual photo collage of his classmates.  He relayed to me that he got the highest mark, 93%, for this Filipino project.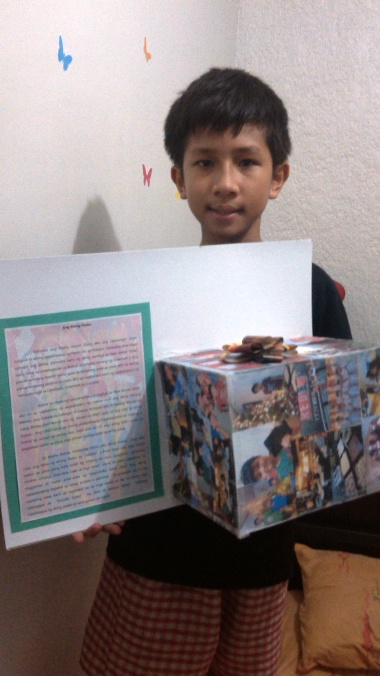 My son's project held many Christmas memories in a 3D picture collage shaped like a gift.  Both mom and son enjoyed making the collage.  But more than anything else, this mother felt a different kind of sentimental joy.   We may never bring back the times when we were most happy, good thing though our photographs captured everything that would always bring us joy and smiles.  These pictures become memories that would forever remind us of our Christmas celebration last 2013.
* (January 2014) I compiled and will share some of the school projects made by my boys in order to help other students with their research.  It has always been this momi's intention to offer help the best way she can.