My boys must have left the television on. It was tuned in at Cinema One and a number of commercials were playing. One commercial caught my attention.
A student has a hard time catching up with lessons as he can't memorize everything. Then his mother gives him Ginkgo Biloba. After that, he actively participates in all classroom discussions and even get good grades from quizzes.
If only my husband was near me that day, he must have said, "you used to be a marketing and PR person, and you know the drill. Now, you're letting yourself be fooled by those commercials."
I don't think I'm letting myself be tricked. We got some ATC Ginkgo Biloba at home and it wouldn't hurt if we try it to our son. He has been forgetful lately or he must be preoccupied with so many things he can't concentrate anymore.
Anyhow, forgetful or not, I would like him to maintain a good memory and also sharpen his mind. Taking Ginkgo Biloba, I believe, would help. It's a dietary supplement that helps retain good memory, sharpens the mind, and avoids cognitive function damage. Clinical studies show that Ginkgo Biloba helps protect the brain from nerve damage. Studies do indicate that it likewise helps prevent the possibility of Alzheimer's disease and the progression of dementia symptoms. Husband relayed to me before that his mother is experiencing dementia and it has been difficult. She would repeatedly ask the same question twice or thrice. She got lost once as she wasn't able to remember her way home.
Having a good memory is essential in most points of our lives. I would want my son to maintain a good mind and do better in life.  And ATC Ginkgo Biloba would be my partner in attaining that.
Why ATC of all brands? From my own research, I have learned that ATC Healthcare International Corporation is an emerging leading firm of healthcare products that employs advanced technology and carries out strict internal control standards to deliver only high-quality products. All of its products are approved by the Food and Drug Authority, thus, I am assured that the food supplement my boy is taking is safe and effective.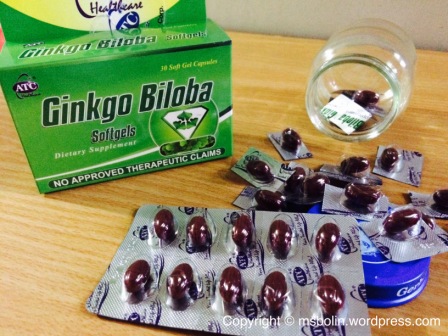 My boy is about to finish a box of ATC Ginkgo Biloba and the food supplement might have some positive effects on him. I could see him focusing more on his tasks and there is an improvement in memory response. He enjoys it as well as it comes in soft gel form which is easy to swallow and does not have any bitter taste.
We plan to maintain taking ATC Ginkgo Biloba.  So for mommies who would like to try this food supplement, ATC Ginkgo Biloba is available at Mercury Drug and leading drugstores nationwide for P 6.00 per piece.  This herbal supplement gives promise to improving the memory of my 12-year old boy.  It might show positive responses, too, to you or your kids. 🙂 This is a personal blog and I do not receive monetary compensation for any of my product reviews. All reviews represent the opinion of Crafty Crunchy Mama based on personal use and results.
  * msbolin did not receive monetary compensation for this product review though got it for free. This post represented the opinion of this mother based on personal results.