We love Tagaytay.  More than its cool climate,  our favorite place offers two wonderful reasons to keep us coming back again and again.
A.  RESIDENCE INN
Residence Inn is everyone's perfect home away from home when in Tagaytay.   It has limited rooms only to guarantee exclusivity of the place.  Its level of service and hospitality assures one's stay to be truly enjoyable.  Aside from  air-conditioned rooms complete with satellite/cable TV and shower, Residence Inn offers room service and has a restaurant, shops, family room, and meeting facilities that one needs not leave the inn to enjoy a fabulous vacation.  And have I mentioned that Residence Inn is famous for its strategic location overlooking the Taal Lake?  Aside from its breathtaking view, the inn is also known for its Mini Zoo that most kids love to visit.
B.  PARADIZOO
Only a few minutes away from Tagaytay, Paradizoo is an ideal place for educational field trips, family, and group outing.  It is a charming paradise full of rich gardens and animals strategically located in Mendez, Cavite.  Everyone, kids especially, has the chance to interact with different interesting animals here from llama to camels, miniature horses, ostriches, greyhounds, labrador retrievers and albino carabao among others.  Some of these animals are roaming free to everyone's delight while others are behind their fences.  And for those who prefer to be in the company of different blooms and veggies, Paradizoo has a long stretch of a garden full of floral designs and vegetables.
Both Paradizoo and Residence Inn are two of the five theme parks being operated by Zoomanity Group, a leading company of theme parks. Other parks under Zoomanity Group are Zoobic Safari in Subic, Zoocobia in Clark Pampanga, Zoocolate Thrills in Bohol, and Zootopia in Nagano Japan.
And now the good news is–
As Paradizoo celebrates its annual Power of Three Festival (floral, vegetable and livestock festival), an ongoing exhibit of bonsai, farm produce, livestock, orchids, and veggies  is up until March 31.  This aims to expand everyone's understanding towards agriculture. And on March 26, there will be a briefing and discussion on rabbit breeding and egg production. An animal parade is also expected to take place which children of all ages will surely appreciate.
Residence Inn, on the other hand, has the Power of Litez and Soundz display to keep its guests in awe from January 9 to March 31 (all weekends).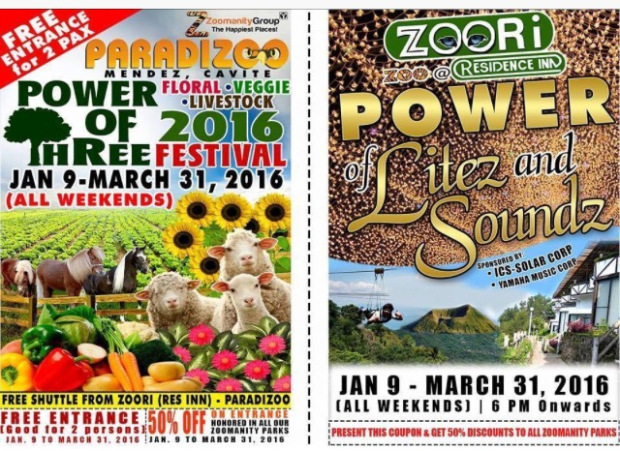 Prior to that, guests were fascinated  by the colorful floral design and flower and orchid arrangement last January 16 to February 6.  A pre-Valentine's Day special event was also prepared last February 13.
And everyone is invited to join the fun and be thrilled!
For more information, you may call or text TAG Media and Public Relations at 09166299381. TAG Media and Public Relations is the marketing and branding arm of Zoomanity Group under the Yupangco Group of Companies.
Excited?  An easier way to get there: