Last school year was a period of punitive justice in our household.  I've scolded the boys over lost pencil and leftovers.   These made my boys feel hurt and sad.  They might have even doubted my love for them.
Today though, I will try to be more patient.  Instead of punishment, I will reward my boys for every good deed done.   Using positive discipline might encourage them to realize their wrongdoings and eventually change these undesirable actions.  This way, they will feel not only my love but their value as well.
After brainstorming with the boys, we came us with our COUNT YOUR STARS rewards chart.  The boys will receive a gift for every completed task.  They also discussed within themselves the prize they will receive to further give them the motivation to do the assigned task.
the tasks (5 categories):
1.  legible handwriting
2. no creases and fold on notebooks and books
3. no leftover
4. homework done
5.  clean bag and no lost-and-found
the reward:
1.  earned five stars in one category in a week  = P20.00
2.  completed all five categories in a week = P100.00
3.  got complete stars in one category for two consecutive weeks = cellphone load
4.  60 stars (all five categories) for two weeks = P300 cellphone load
5. completed all stars for one category in a month = android paid game
6.  all five categories with complete stars in a month = five android paid games
To give their brain a good work out, I even urged the boys to create their own charts.
The boys' colorful art works are displayed in our freedom wall.  That way, they get a status check of each's progress.
I assume teachers give sticker rewards to their students to 1) acknowledge the pupils' very good class standing, 2) further encourage the kids to do good in school, and 3) tell the parents that their children just did something great in class.
Though I truly appreciate my boys' teachers giving out these star stickers or stamps, I told myself not to use the same system at home.  Why.  Because 1) I do not want the boys to get used to receiving rewards for every good deed, 2) I am somehow afraid not to keep with my promise and disappoint my kids, and 3)  I am quite apprehensive of  its effect to my boys' behavior. They might get used to this kind of reward system that in everything they do, they will wait for something in exchange.  Or what if they tend to get bored with the idea that one day, they will  just don't care.
Sometimes too, I equate reward system to slowly bribing my boys to do what I expect them to.   Good thing though that I have read in one literature that there is a difference between a reward and a bribe.    The book says a reward is given after the behavior, while a bribe is given before.  It even included a good example:  a parent rewards the child by saying, "you did well. Here's a token." A bribe, on the contrary,  will be a parent who says, "here's a token, now please do this."  Also, most of us are motivated by rewards.  A month's work means paycheck on the 15th and 30th.  Same idea with rewarding the kids of their hard work.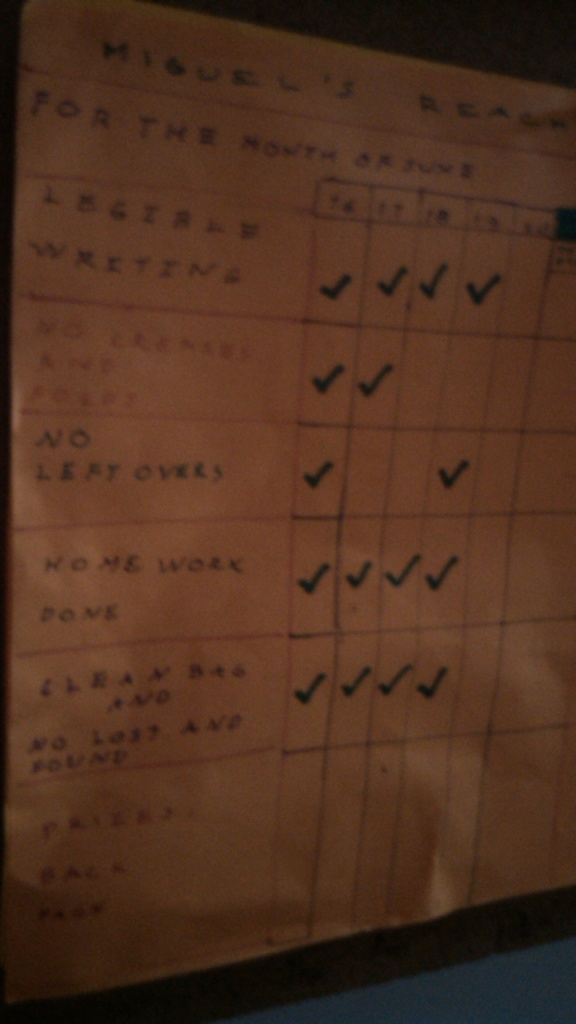 The boys got a taste of how our Star Chart works.   They've just received their first reward. Firstborn completed three categories in a week thus got P60.00.  Second son was very consistent with his legible writing and clean bag hence received P40.00.  Our bunso, on the other hand, faltered and completed the legible writing category only, and therefore got P20.00.
I just hope that with the special token they got, they will be motivated to do even more. This mother is also hoping that through this reward gimmick, her boys will discover within themselves that they can do certain things on their own and they can fine tune those needing some extra attention. This reward chart will not be forever.  They say that it takes 21 days to form a new habit.  So by a month or so, I am optimistic that they will be comfortable doing  specific tasks even without a reward.
Here's to hoping for a good cause and investment.