1.  Woke up feeling so recharged and refreshed.  Had the aircon all night (its my birthday so we have an excuse to extend our usual four-hour aircon time at night.
2.  Prepared and cooked my favorite dishes for the boys.  Then realized that we had chicken all day — chicken tocino for breakfast, chicken adobo for lunch, and pineapple chicken for dinner.
3.  Sat down at the dining table with the boys and joined them for breakfast.  Very rare on weekdays considering that I have to rush and prepare for work.
4.  Extended more time with the boys as we talked non-stop on our way to school.
5.  Brought the boys to school.
6.  Kissed the boys goodbye as they went inside their respective classrooms.   And they kissed me on my lips  — in public!
7.  Engaged in a comforting chit -chat with fellow mothers at the boy's school.
8.  Received warm greetings, well wishes  and hugs and kisses from my fellow moms (still at the boys' school).
9.  Funny moment when three moms went to the nearest computer shop to print their school kids' projects.  In the case of msbolin, her son forgot  that submission of Language project was that day.
10.  In solitude yet peaceful long walk on my way home.
11.   Had the small house all by myself  — enjoyed peaceful reign for an hour.
12.  Leisurely walk to the nearby nail salon as I had my twice in a month foot scrub pamper session.
13.  Indeed a time to relax and focus on my feet ( wide smile!).  I also had time to read some of the latest chismis in the crazy world of show business.
14.  Confidently strolled along Katipunan Avenue Extension with my slippers on as I gave my little chubby feet a quick satisfied smile.  My toenails got some colors on them.
15.   They say "Caress the glass, don't hug it, sip the tea, don't gulp it. Cha Dao offers healthy and delicious drinks made with brewed tea and infused with milk and fruit flavors."  So for my birthday, I got one tall winter melon milk tea, perfect companion while waiting for the spa center to open.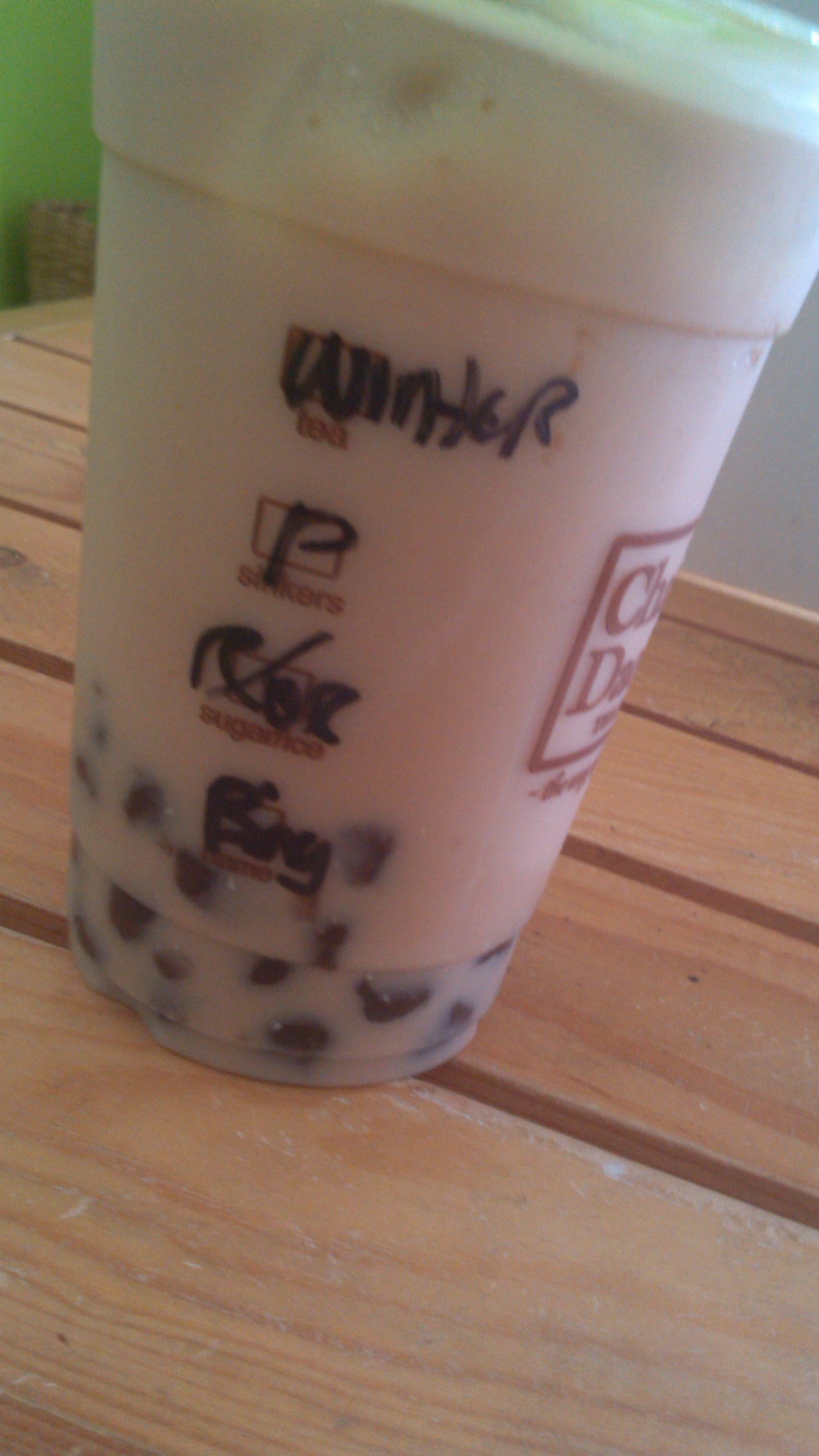 16.  After an hour and 1/2 of therapeutic massage, felt so light, pretty and extra confident.  Ate aiza (my massage therapist ) helped release the muscle tension on my back and even boost my mood for a more relaxing day.
17.   Had my polish redo.  My nail polish got messed up when i had my massage.
18.  Leisurely walk to the boys' school.  This mother finally had the time to fetch the boys!  wahoo!
19.  More sincere greetings and sweet smiles from my boys' classmates (yes, they all knew that it was my birthday), and one actually told me that my 10-year old son was still upstairs inside their classroom cutting some happy birthday letters!
20.  Heard the goodest of all good news!  My seven-year old boy will be the school's representative for the ISAAL Math Quiz Bee.  He will compete against at least 31 QC private schools come November.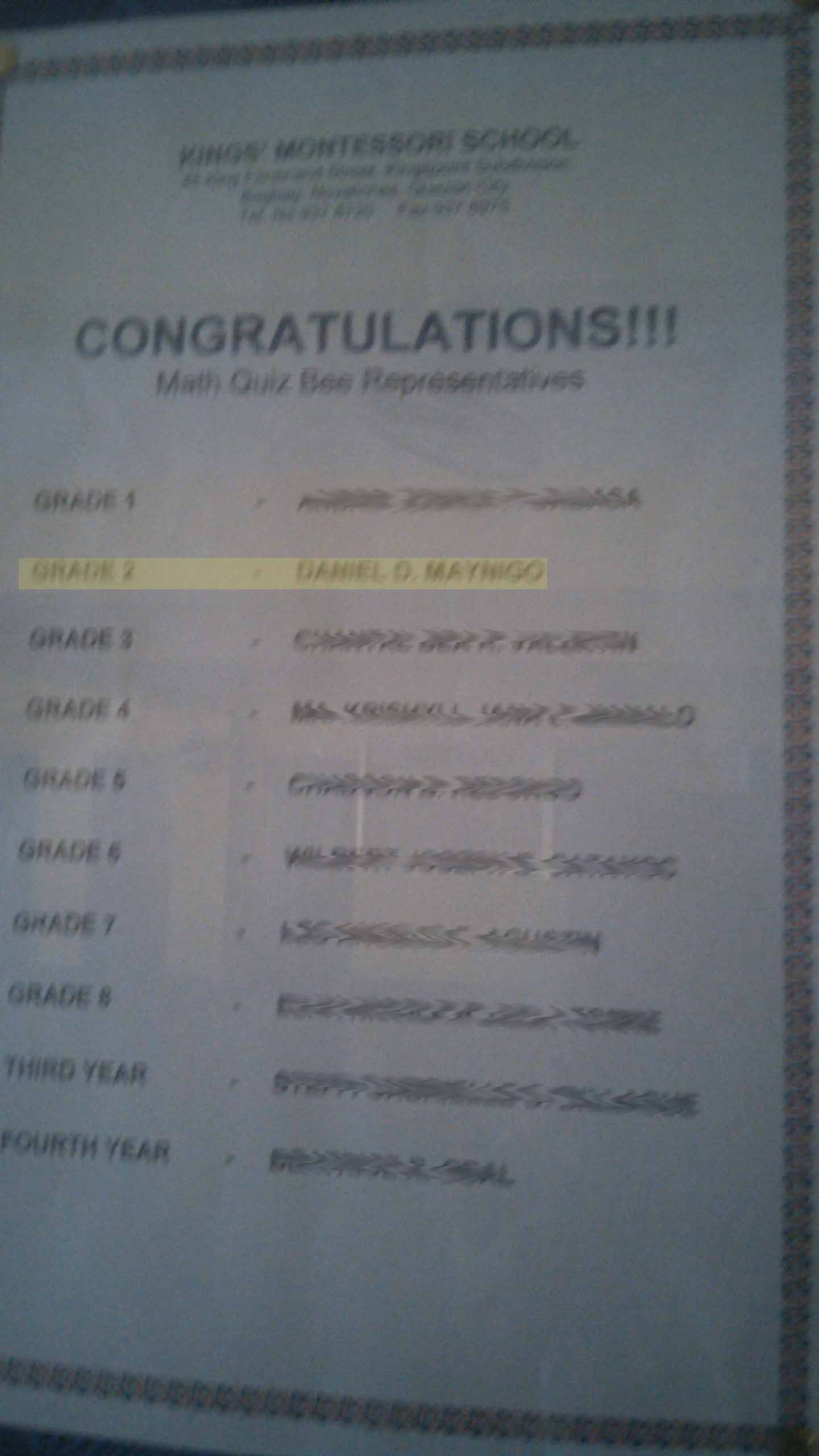 21. Ditched my rather serious on-school persona as I jumped for joy with bunso when heard the good news.  Funny that we jumped up and down outside the principal office, never minding onlookers.
22.  Engaged in a very lively conversation with boys aged 11, 10 and 7 on our way to a neighboring pizza parlor.
23.  As a devoted mom to three children, I always prefer to spend my birthday with my kids.   And we celebrated over pizza and pasta, overflowing french fries and onion rings.
23.  As our parents grow old and older, birthdays become a bit less of a gift affair, not because we have outgrown the joy of receiving big packages but because our parents tend to prefer a more handy birthday present.  And I super thank my dear mother for the cash gift she gave me!  Yeba!  
24.  Birthdays couldn't be any better without receiving a bouquet of the freshest of blooms.  Received the most beautiful flower from my 10-year old boy.
25.  And got the most unusual and colorful birthday card — from my boys.   Aside from greeting their mom on her birthday,  they planned to surprise me only if i follow the instructions they have written.  Quite unique for kids yet very much like my boys.
26.  Eager to "claim" my surprise, I followed the instructions set by my boys —
a.  jump 5x
b.  walk to the stairs
c.  walk 13x to the 2nd floor
d.  go to your room
e.  you will find your surprise on the wall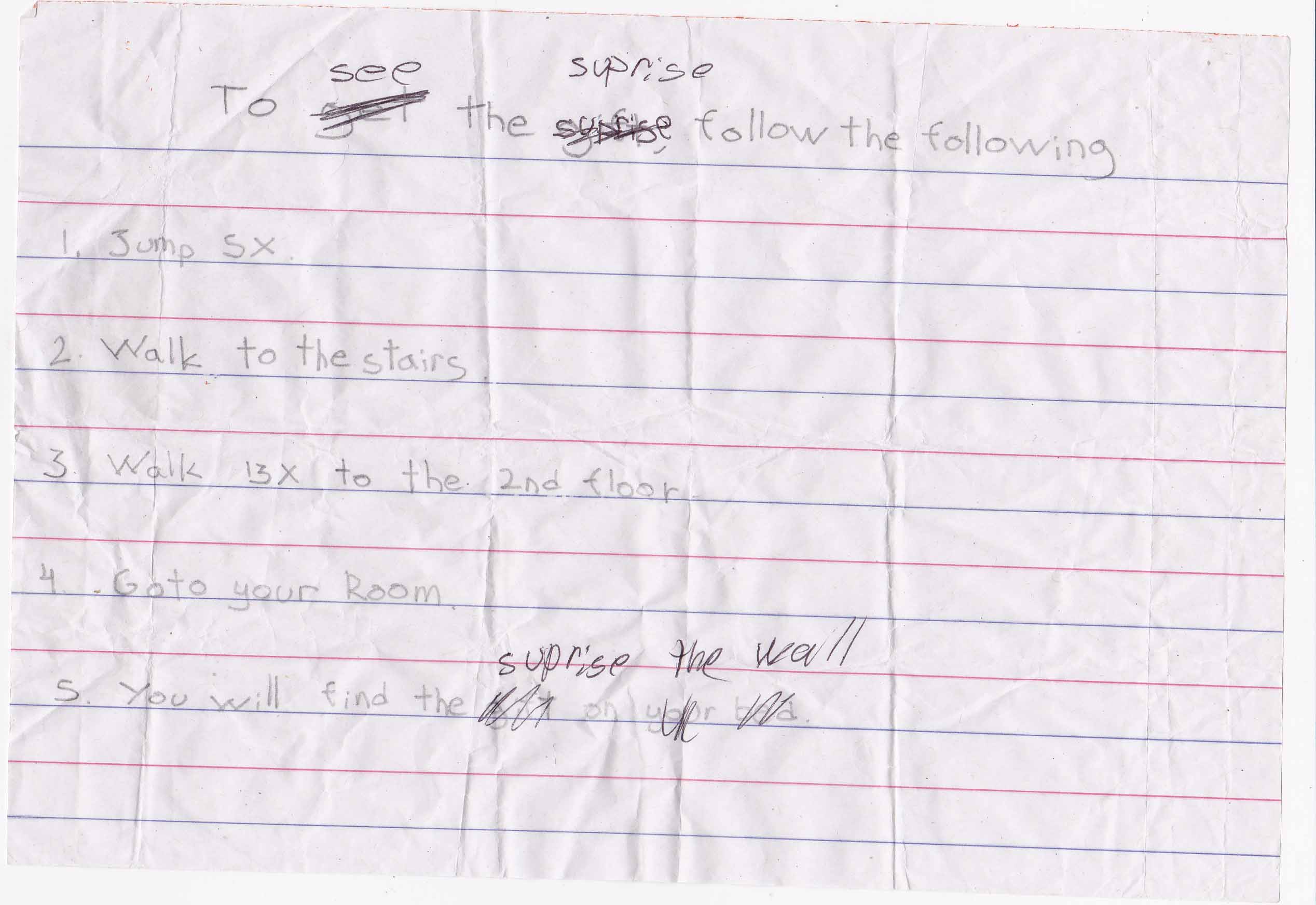 27.  Had my first birthday video and it was  recorded by my 10-year old boy.
28.   Only had the evening to check emails, and my Facebook was literally flooded  with birthday greetings!
29.  And though people and loved ones greeted me on Facebook, there were still a number of good friends who texted such sweet birthday messages that were equally touching and soo inspiring.
30.  And (again) despite the widely popular Facebook greetings and text messages, store-bought greeting cards may be truly and  exceptionally romantic especially with personalized messages such as this –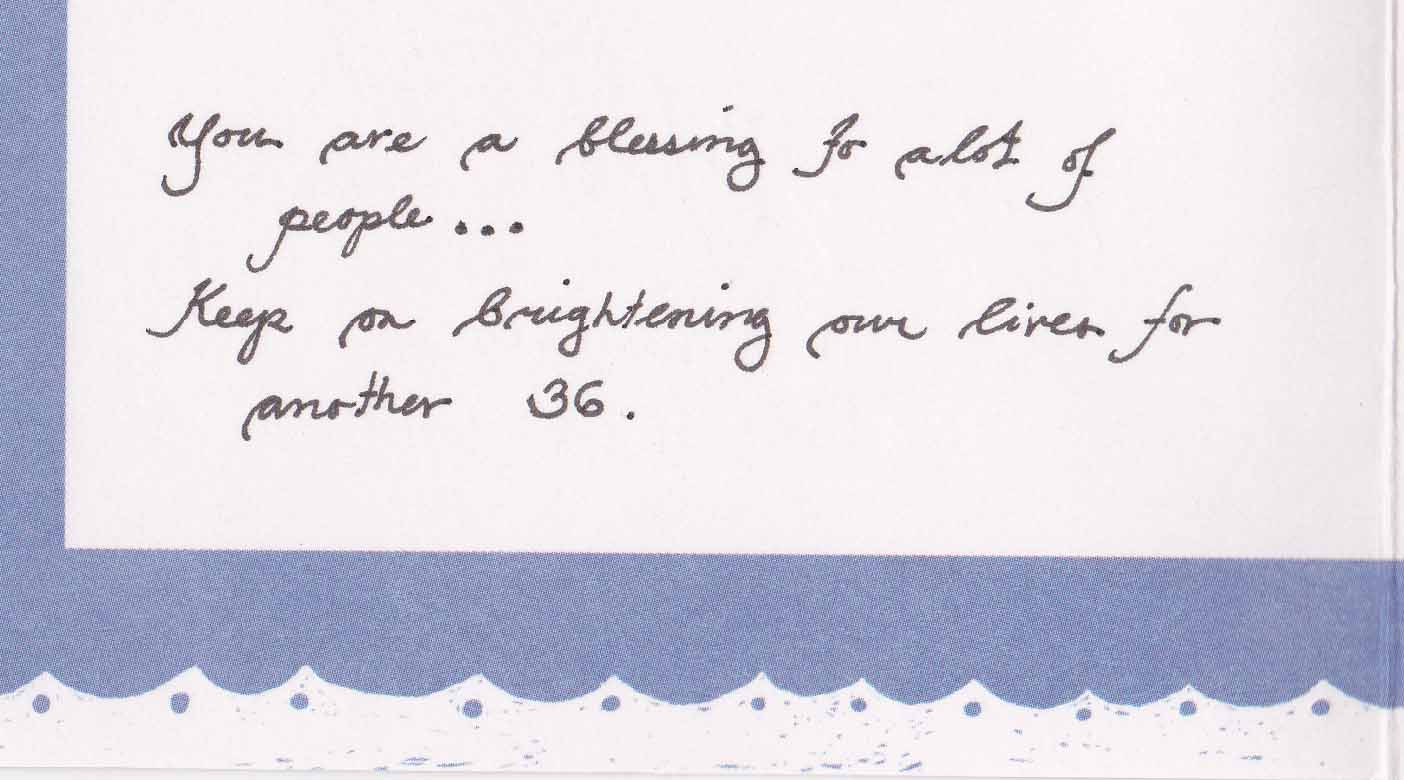 31.  Knowing that your dear husband involves himself to your quest to a healthier you.  a fitting gift —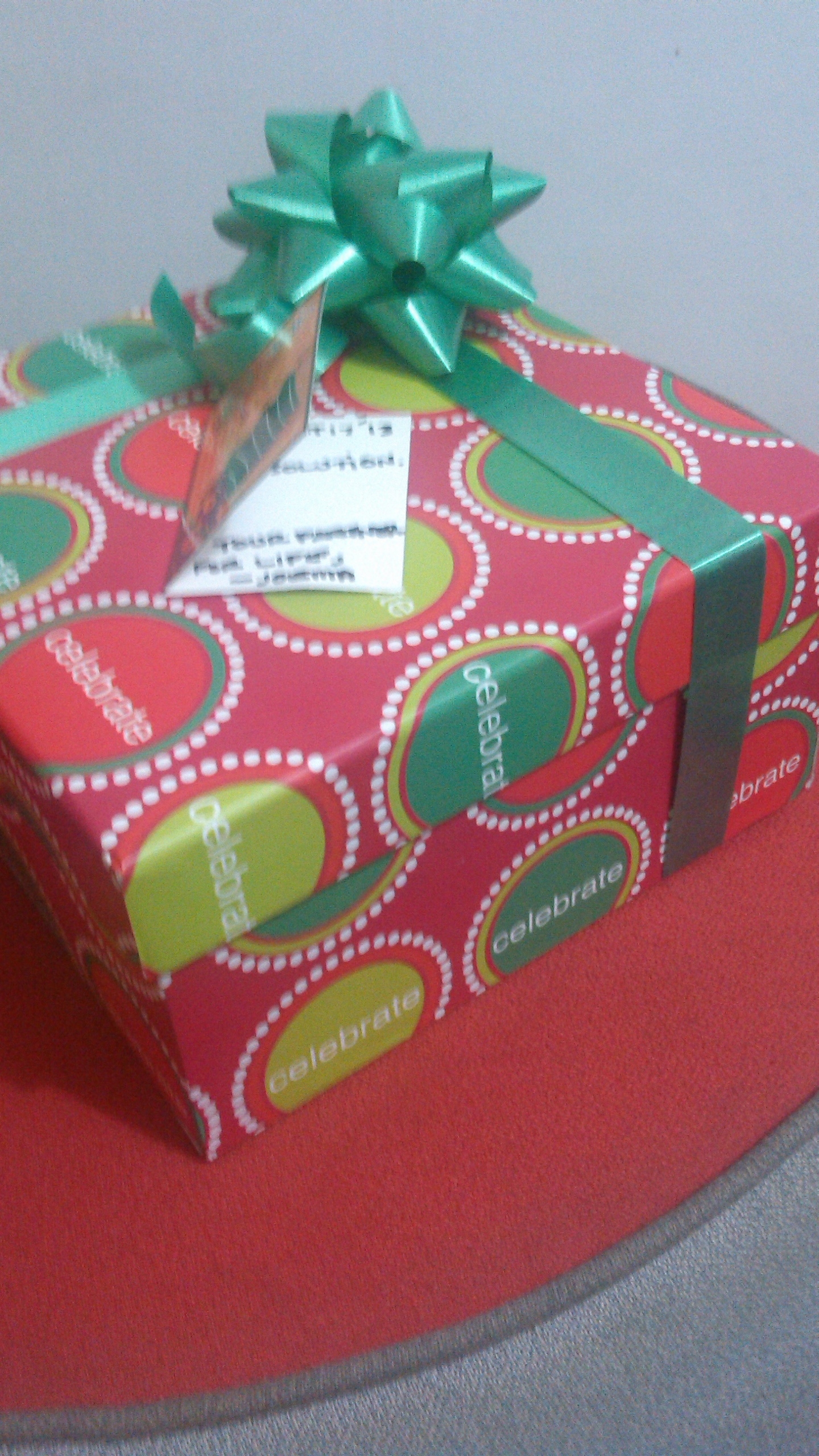 32.  And some friends just know you very much that they would send gifts that truly represent you.
33.  A birthday prayer from a dear cousin was like receiving God's shining ray of blessings .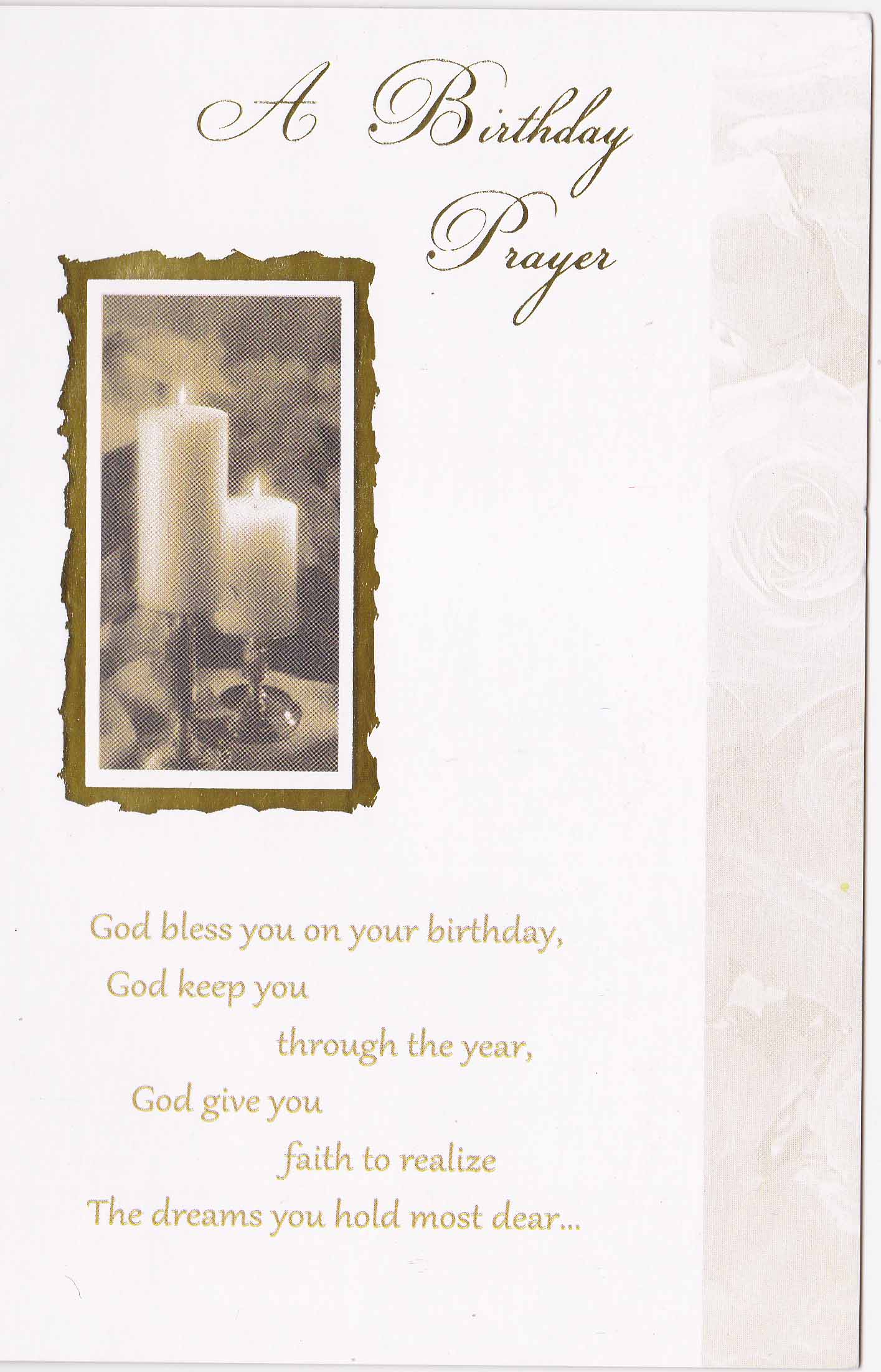 34.  Although we aren't close, my father still wished me a happy birthday.  He even set a lunch date with me, perhaps to get together and catch up on things.   I havent seen him for years!
35.  One thing any individual always appreciate is being appreciated.   It's such an inspiration and a boost to hear dear best friends or just plain friends know how they see you —
36.  Kids definitely look forward to bringing home a trophy when they join a school contest.  A symbol of victory, these special cups are truly prized possessions.  And I got mine from first-born.
Indeed, I had a blast!  and to all the beautiful peeps who made my day truly special, thank you from the bottom of my heart.
Related articles