I love Juno.
It all started with a chair.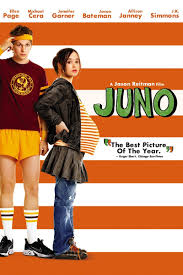 I love Juno because –
I like Juno's face. And her wit as well. At sixteen, she boldly confronts her unplanned pregnancy from a one-time sexual encounter with her best friend Bleeker. Not ready yet to play a teenage mom, her initial plan is "to procure a hasty abortion." Guilt or fear may have pushed her to later opt for adoption and instead consult the Pennysaver ad section "for a woman with a bum ovary or a couple of nice lesbos." After thorough scrutiny with the aid of her cool girl friend Leah, and supportive dad Mac, Juno finally faces the Lorings, an affluent suburban couple, and agreed to a closed adoption.
I love Juno because –
The film is indeed a delight. Penned by former stripper Diablo Cody, Juno is one of the year's snappiest movies, a true documentation of a Western teenage life. Cody, who grabbed the Oscars by the way, flawlessly illustrates a carefree high school student who listens to cool '70s band and watches obscure foreign horror flicks. Stylized slang, sharp comments, and literate dialogue make the movie even more amusing, plus the enviable cast list of course.
"Thank you for Smoking" Jason Reitman does a wonderful direction, creating a truly geek Bleeker and no-nonsense stepmom Bren. Deadpan confrontation to poignant scenes are noticeably done in good taste. And without a doubt, lead star Ellen Page effortlessly displays her comedic chops and razor—sharp timing despite her distinctly charming face.
I anticipated that Juno will prefer to keep the baby and be a mother, seeing her slowly maturing as the film progresses. However, Juno's baby boy, at the end, becomes Vanessa Loring's first born.
I love Juno because –
The film is full of wit and of love. Disliking Bleeker at first for his bore-to-death character, I nonetheless feel his love for Juno- at the very end of the film- from his unreserved cuddle. All the more, I could feel Juno's wanting to own the baby from the tears she shed.
The music is superbly arranged. I hastily downloaded Juno's soundtrack on Limewire come Monday.  I repetitively listen to it now.
** 14 April 2008 post